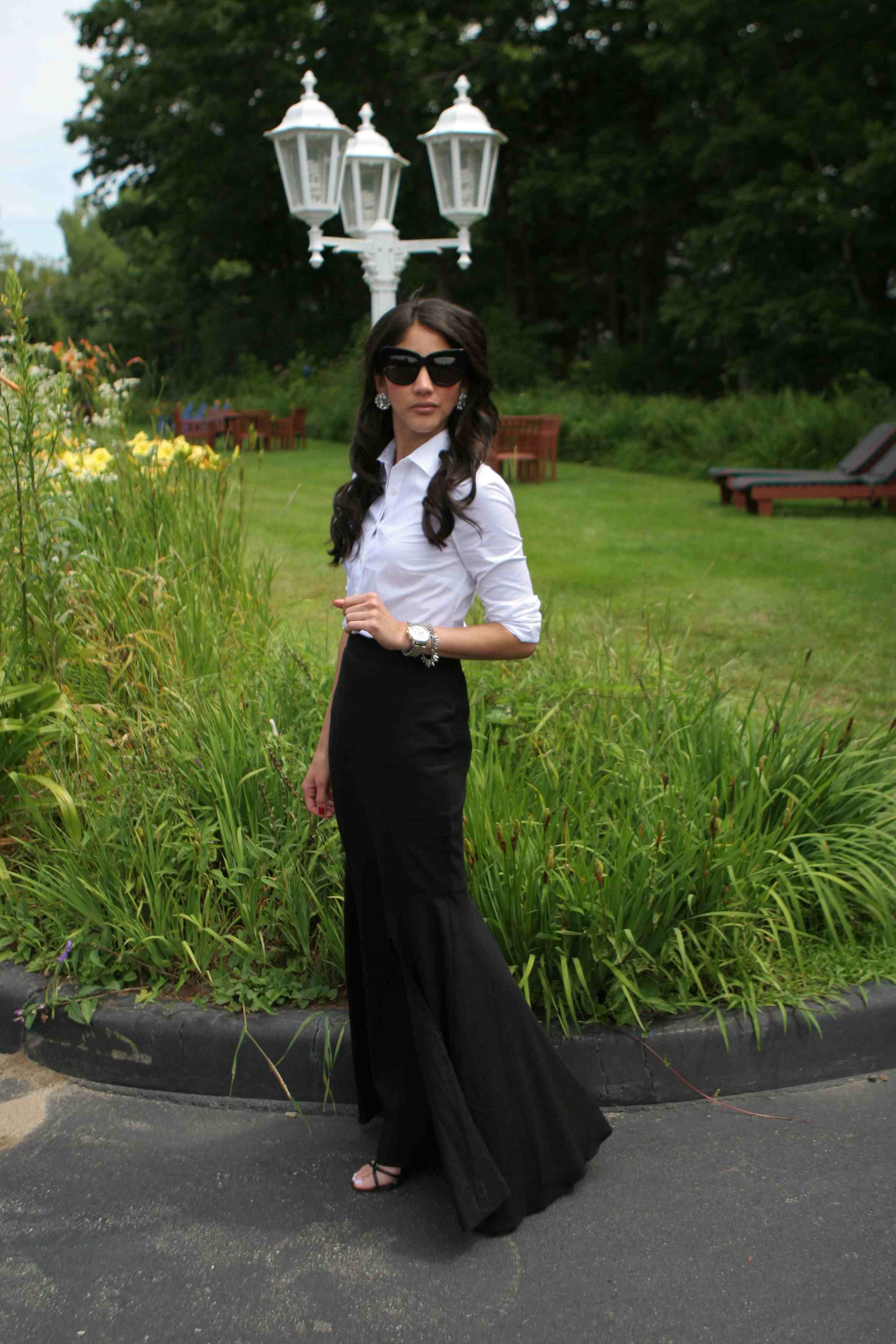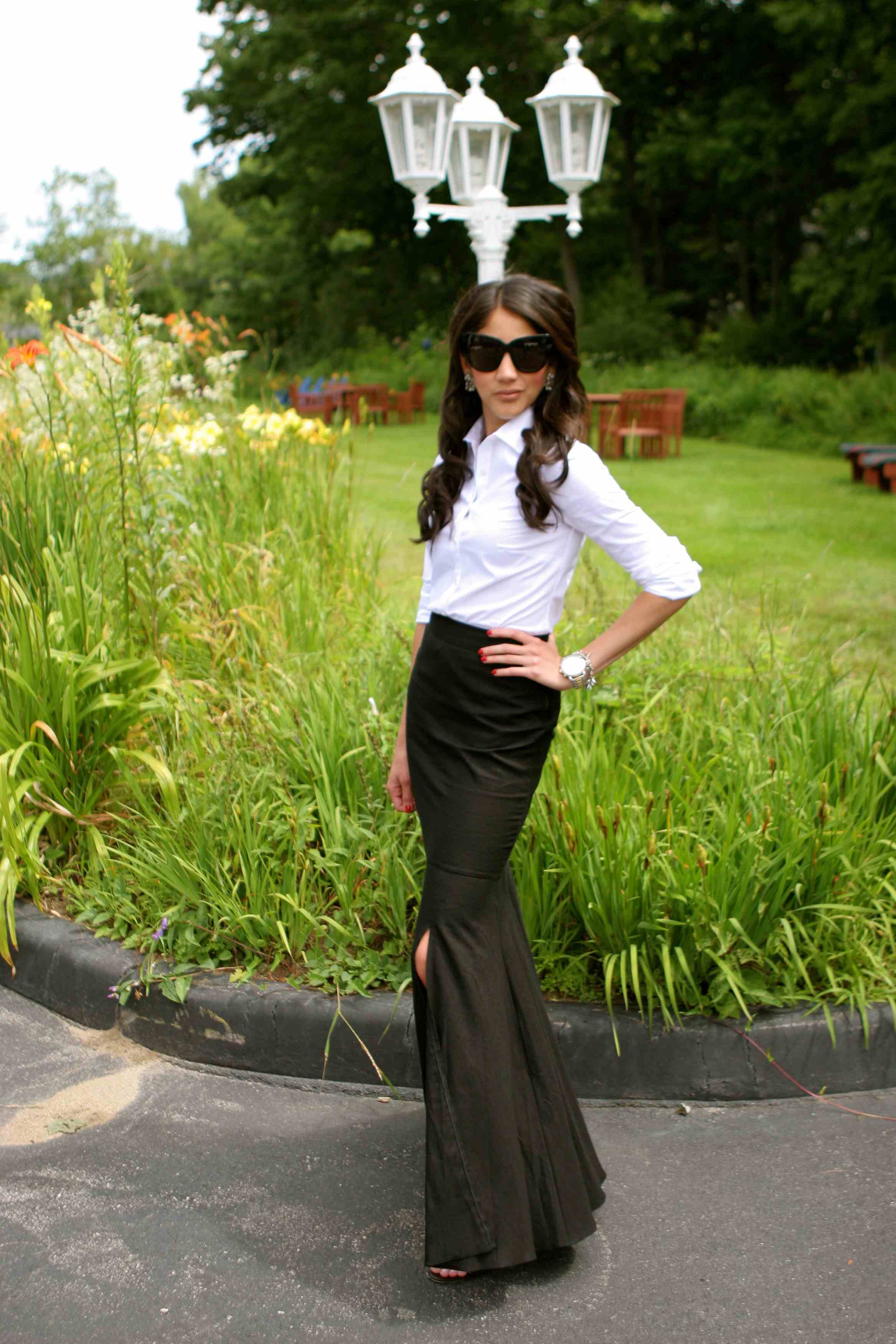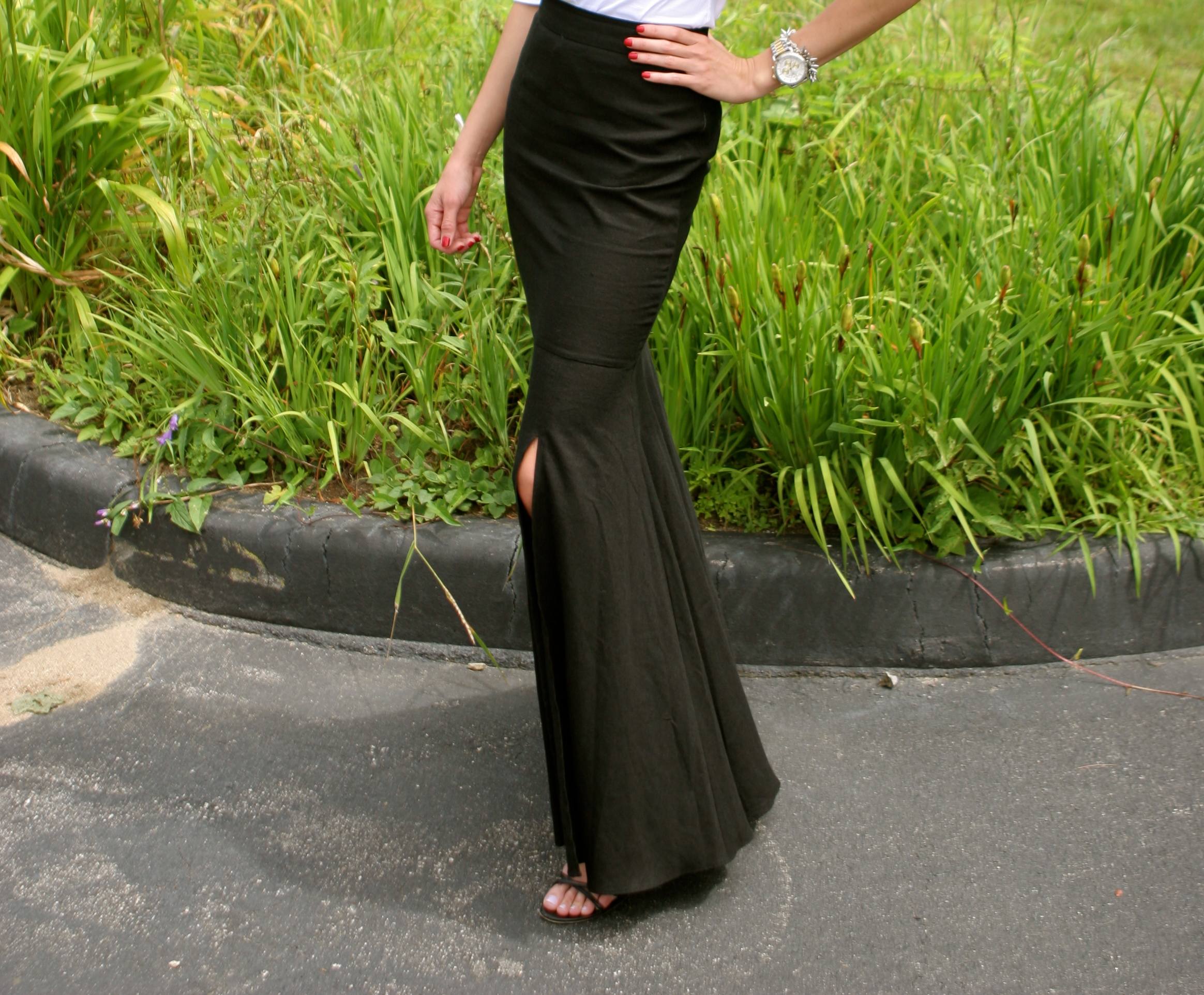 If you're looking into what to wear to a swanky event, I recommend trying a crisp white shirt and a long skirt for a very classy and feminine look. Mixing these staple pieces with a stand-out accessory such as statement earrings or a necklace, will give you a powerful look. I rolled up my sleeves to get that Herrera-esque vibe. When it comes to dressing up, I like clothes that are simple, fitted but with one key statement. Asos maxi skirt in linen with side split (now $30), J.Crew Factory stretch classic button-down shirt, Charles David heels, House of Harlow 1960 Chelsea sunglasses (now $96), J.Crew earrings, Coach watch, Stella & Dot bracelet.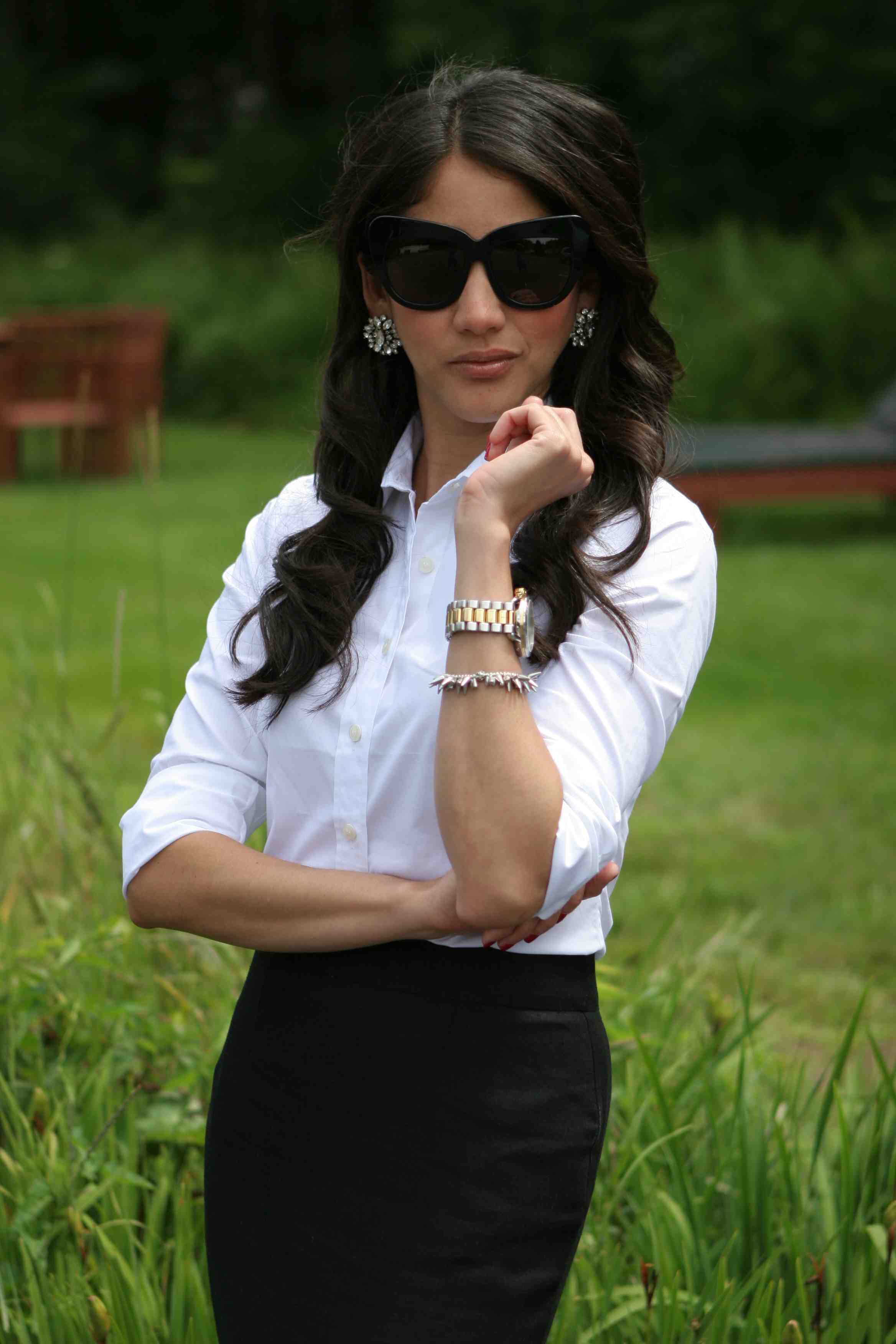 Wenn Sie in das, was zu einem mondänen Ereignis zu tragen suchen, empfehle ich versuchen ein weißes Hemd und einen langen Rock für einen sehr edel und feminin. Mischen dieser Grundnahrungsstücke mit einem Stand-out-Zubehör wie Ohrringe oder Anweisung einer Halskette, wird Ihnen ein kraftvolles Aussehen. Ich rollte die Ärmel auf, dass Herrera-esque Atmosphäre zu bekommen. Wenn es um putzt sich kommt, ich mag Kleidung, die einfach sind, aber mit einem Kernsatz ausgestattet. Asos maxi Rock, J.Crew Factory Hemd, Charles David Schuhe, House of Harlow 1960 Chelsea Sonnenbrille, J.Crew Ohrringe, Coach Uhr, Stella & Dot Armband.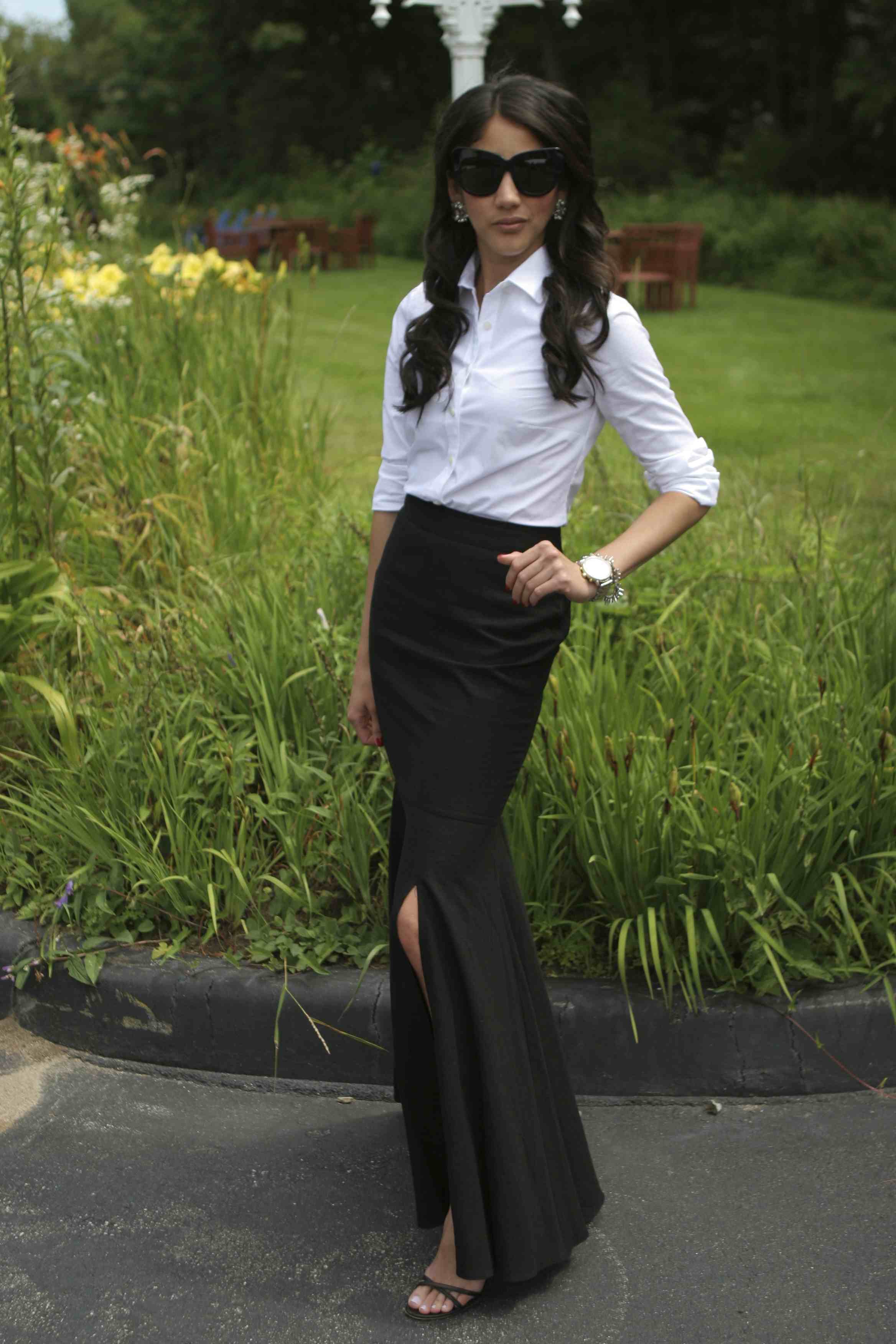 Si estás buscando que ponerte para un evento elegante, te recomiendo probar una camisa blanca clásica y una falda larga para obtener un look clásico y femenino. Mezcla estas piezas básicas con un accesorio que llame la atención, puede ser aretes grandes o un collar, esto te dará un look poderoso. Me remangé las mangas porque quería tener esa vibra de Carolina Herrera. Cuando se trata de vestirme, me gusta la ropa simple, armada pero con un toque extra. Falda maxi Asos, camisa J.Crew Factory, sandalias Charles David, gafas House of Harlow 1960 Chelsea, arêtes J.Crew, reloj Coach, pulsera Stella & Dot.