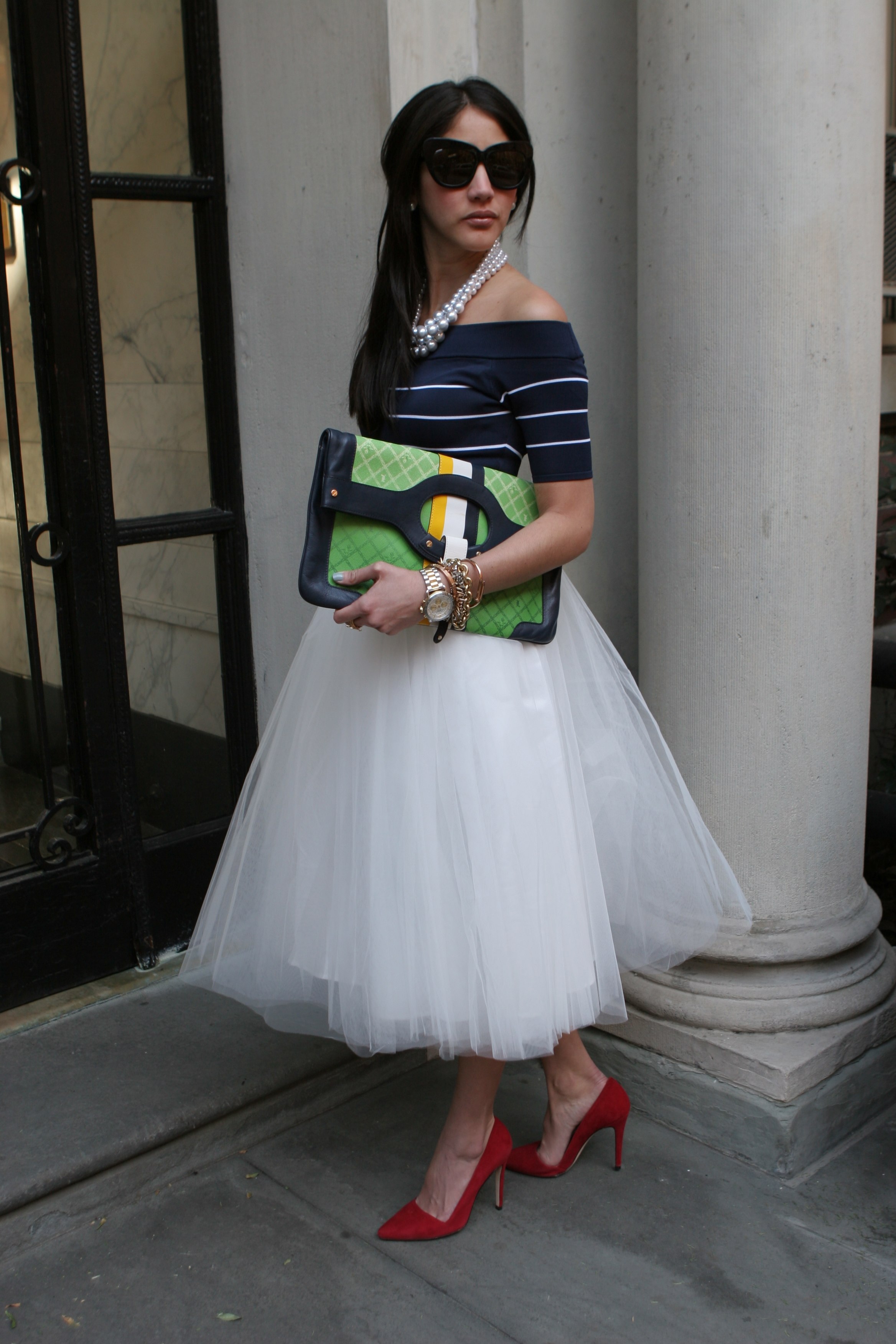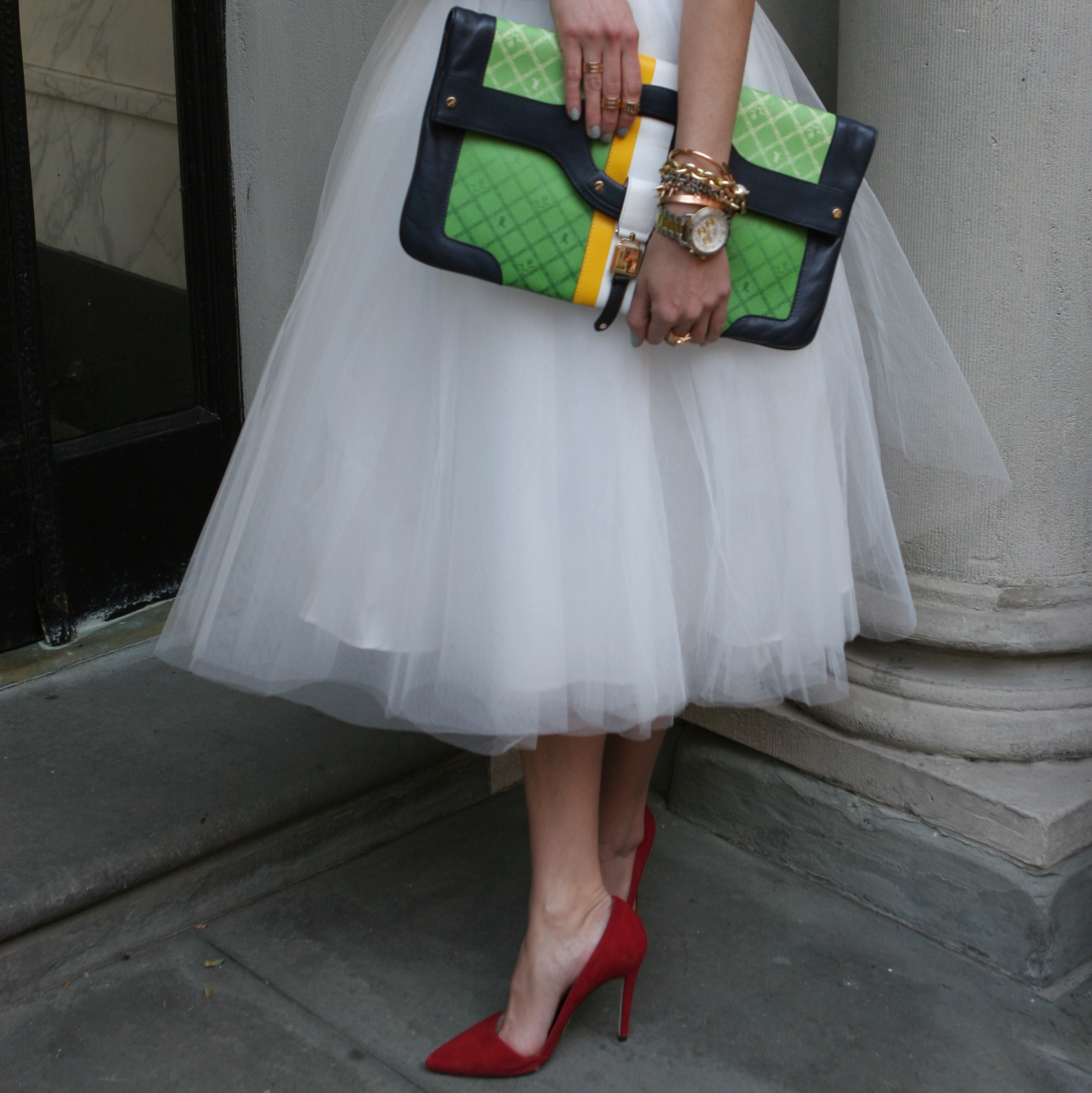 Last month, I had the opportunity to go to Sarah Jessica Parker's pop-up shop in New York City and join her on the launch of her collection, sold exclusively at Nordstrom. Sarah Jessica Parker was at the pop-up shop for three days helping clients find shoes, helping with the register, signing shoes and posing for photos with the buyers that could not believe their luck, including me! It was a unique experience as I continue to watch reruns of Sex and the City and SJP has always been a fashion icon.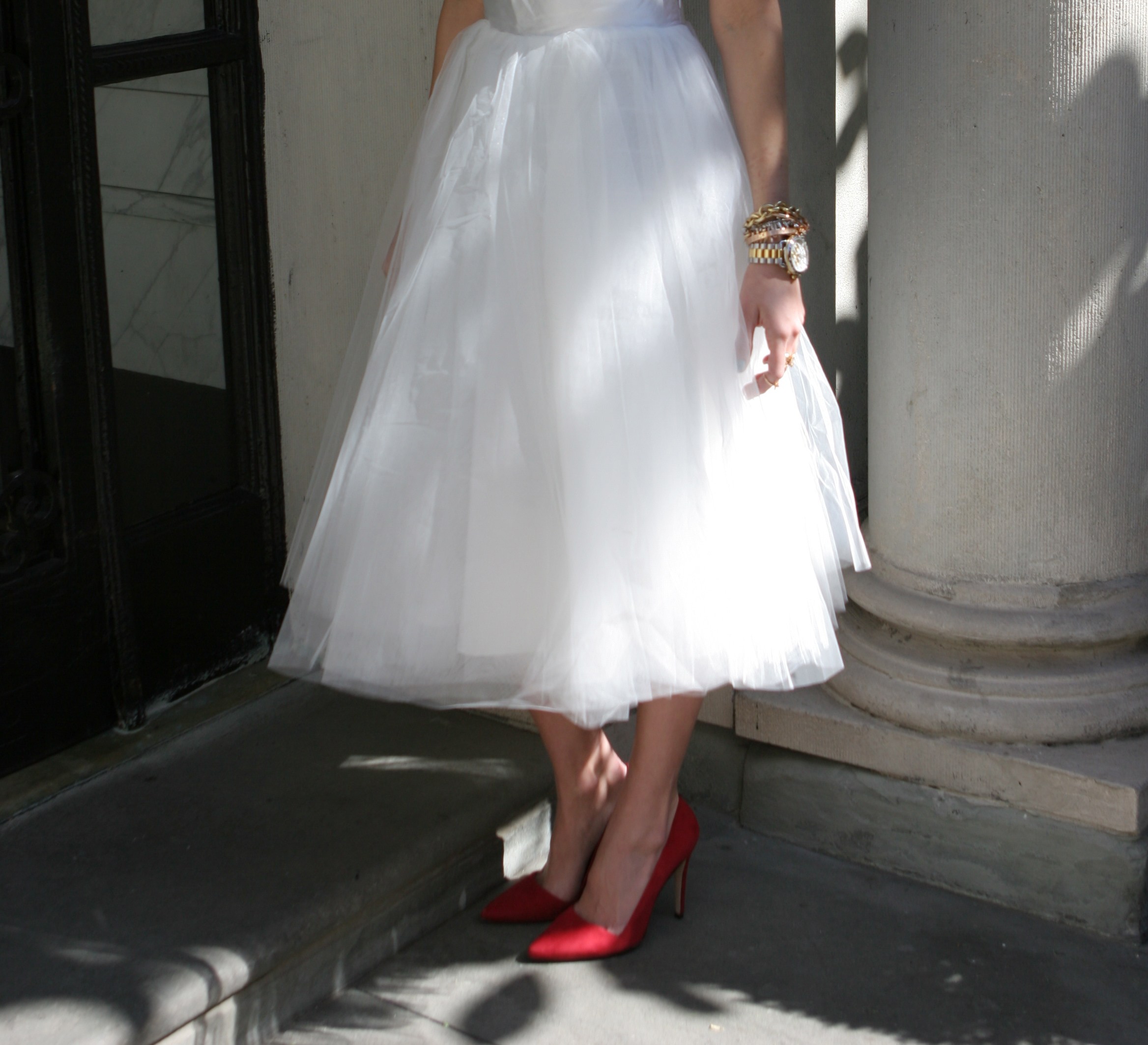 I talked to SJP a few times while shopping. We talked about my style, that I live in New York City half of my time pretty much as my boyfriend lives there and I'm always travelling back and forward. The collection was inspired on the 50s, memories she had as a little girl like hair ribbons, that you will see on the back of some of the shoes in the collection.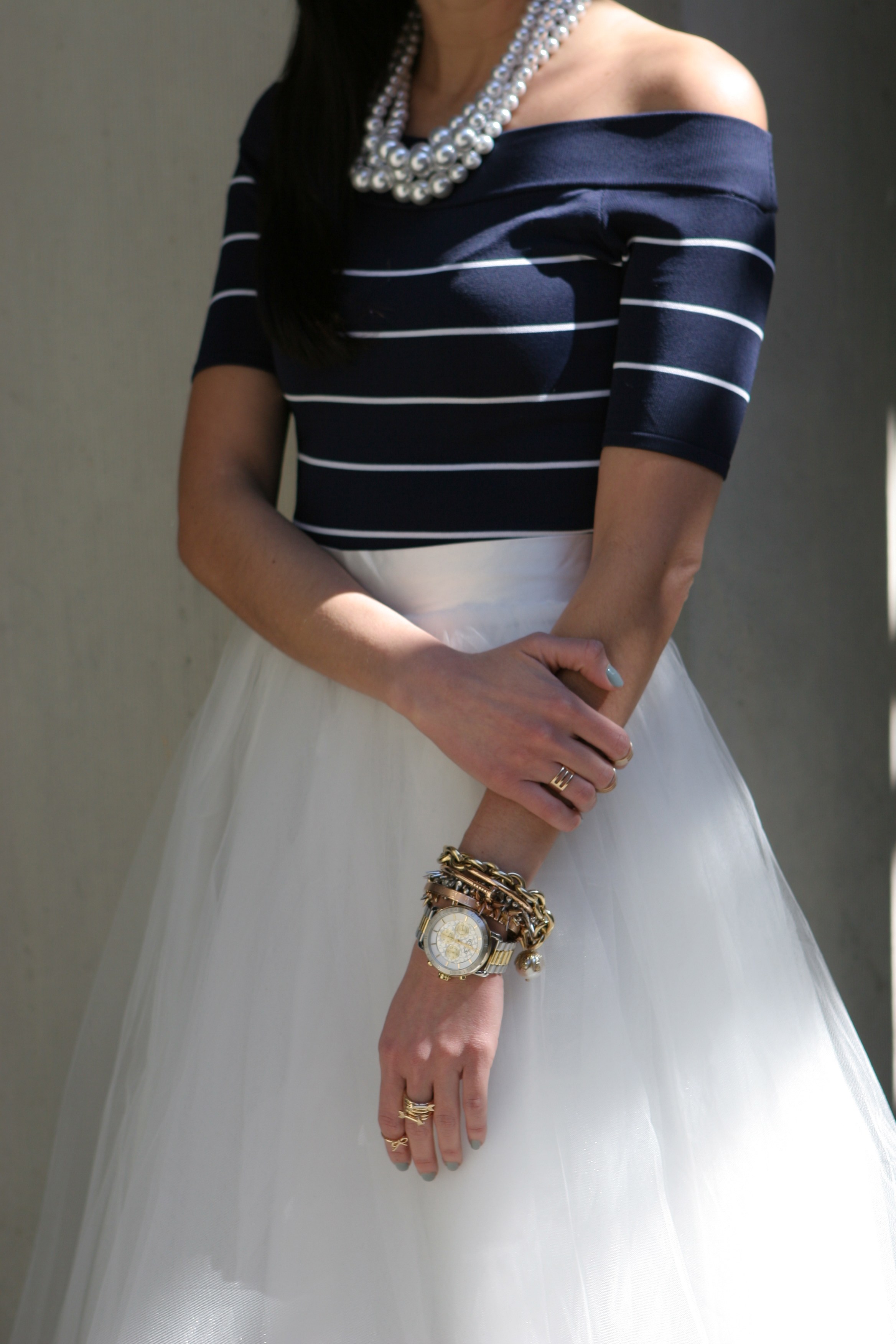 The actress and designer brings the collection in collaboration with George Malkemus, CEO of Manolo Blahnik, that if you remember, Carrie Bradshaw could not wear the brand enough in Sex and the City. The collection also includes a few bags and a very feminine trenchcoat that comes in navy blue and beige. Prices vary from $200-$500. I fell in love with the Bobbie in mint.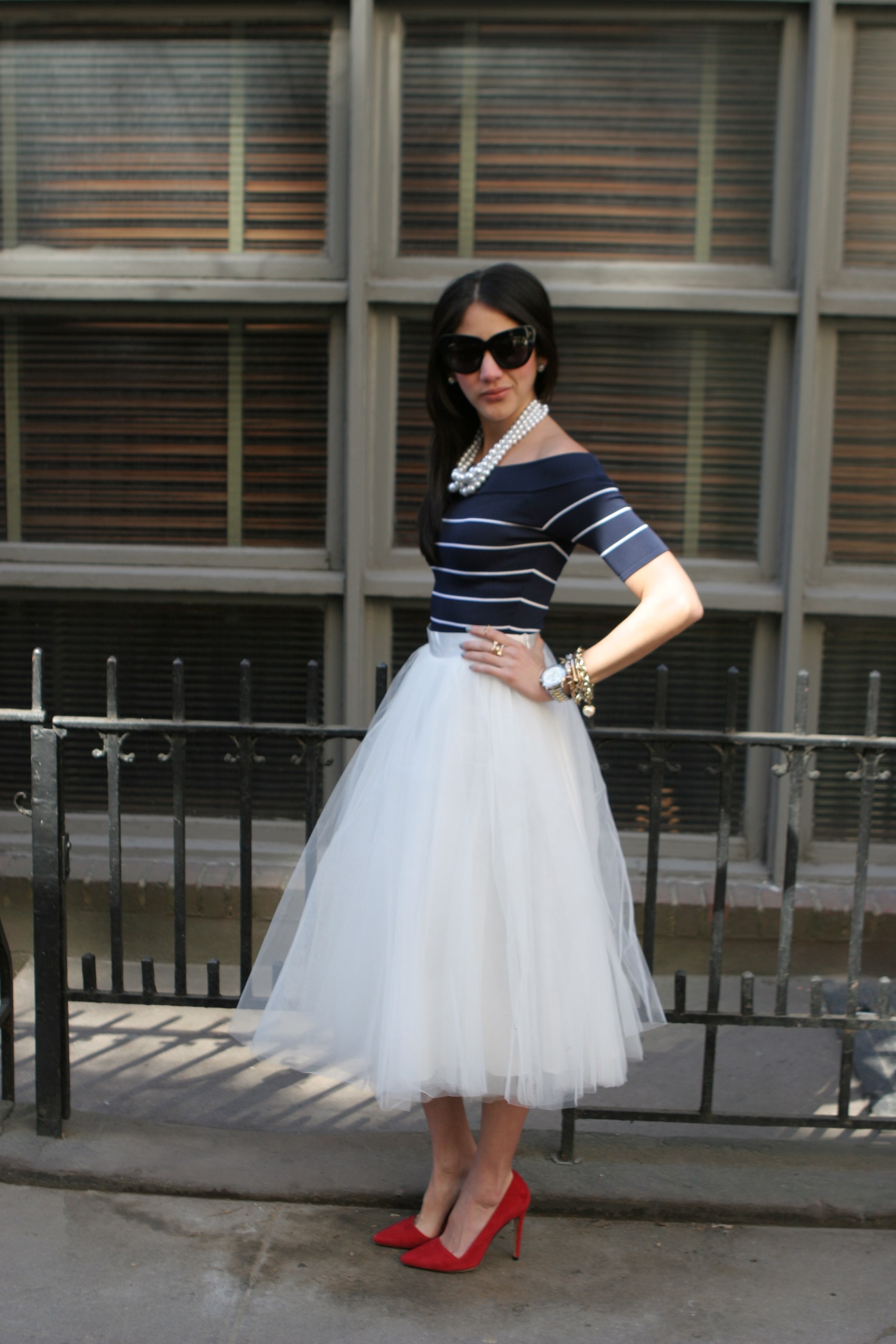 Inspired by her character in Sex and the City, I decided to wear a tulle skirt. SJP liked my look and even took a photo of me and uploaded to her collection's instagram. BCBG dress worn as a top (similar here), Space 46 Boutique tulle skirt (I'm a size medium, I'm also loving the blush one), Alice + Olivia Dina pumps, LAMB bag, House of Harlow 1960 Chelsea sunglasses, Forever21 simply stated bow midi ring, Forever21 cutout striped midi ring set, Forever21 hammered arrow ring set, Coach watch, Stella & Dot renegade cluster bracelets, Anarchy Street classic nail bangle, vintage love bracelet, Lauren Elan necklace.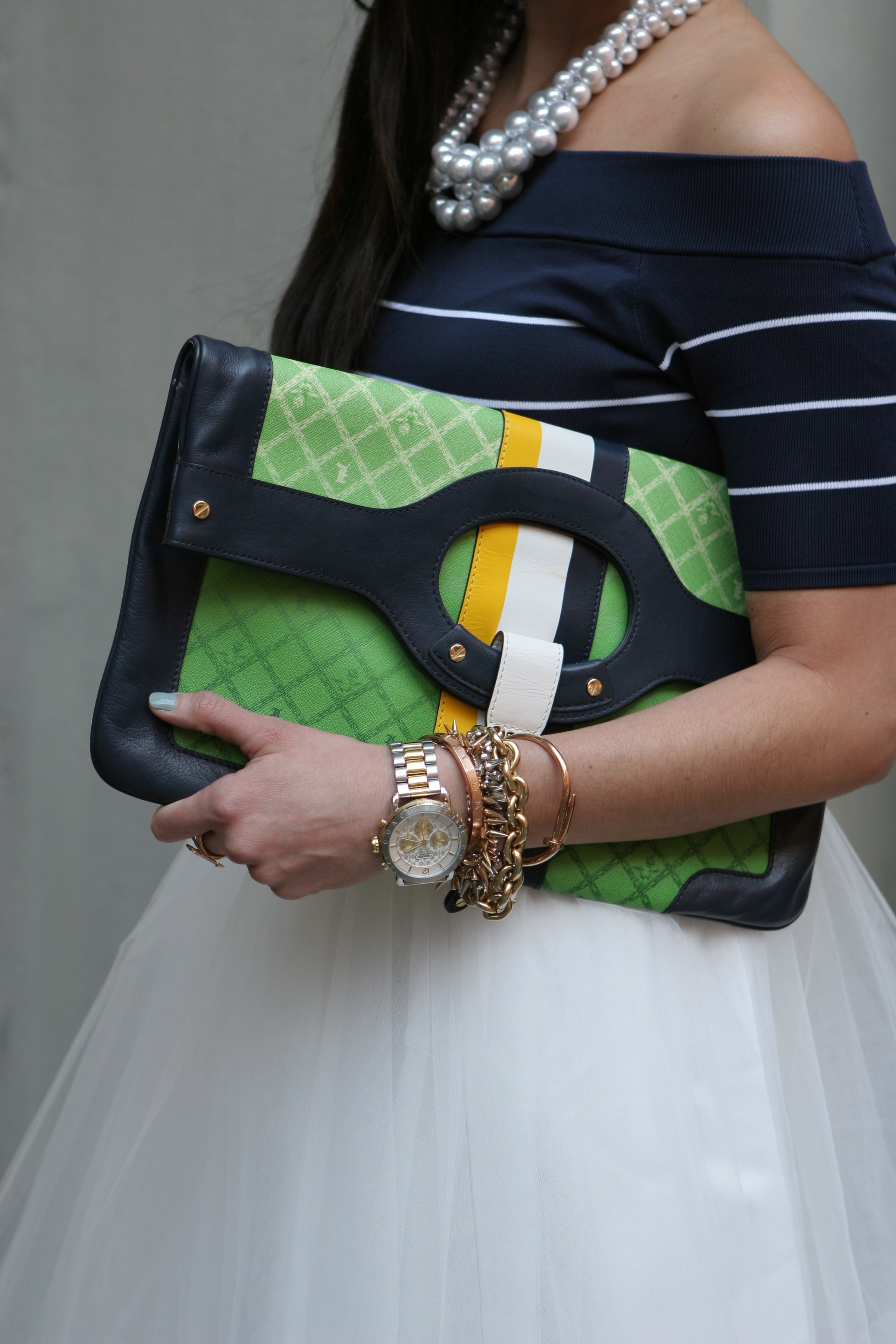 Letzten Monat hatte ich die Gelegenheit, zu Sarah Jessica Parker Pop-up-Shop in New York City gehen und gemeinsam mit ihr über den Start ihrer Kollektion, exklusiv bei Nordstrom verkauft. Sarah Jessica Parker war bei der Pop-up-Shop für drei Tage helfen Kunden finden Schuhe, die Hilfe bei der Register, die Unterzeichnung Schuhe und posieren für Fotos mit den Käufern, die ihr Glück nicht glauben konnte, mich eingeschlossen! Es war eine einzigartige Erfahrung, wie ich weiterhin Wiederholungen von Sex and the City zu sehen und SJP hat immer eine Mode-Ikone.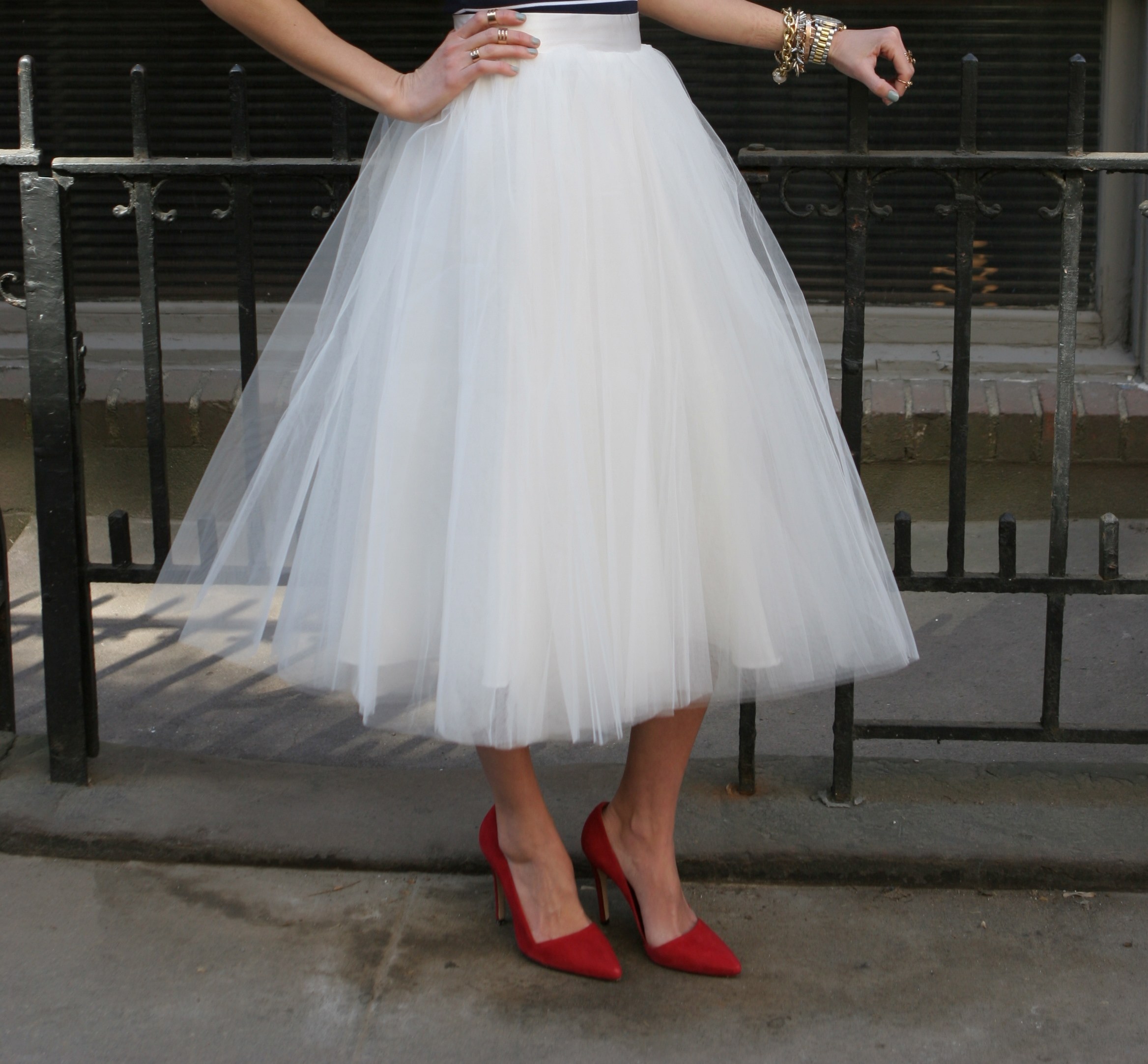 Ich sprach mit SJP ein paar Mal beim Einkaufen. Wir sprachen über mein Stil, dass ich in New York City die Hälfte meiner Zeit ziemlich viel, wie mein Freund lebt dort und ich bin immer vor und zurück reisen.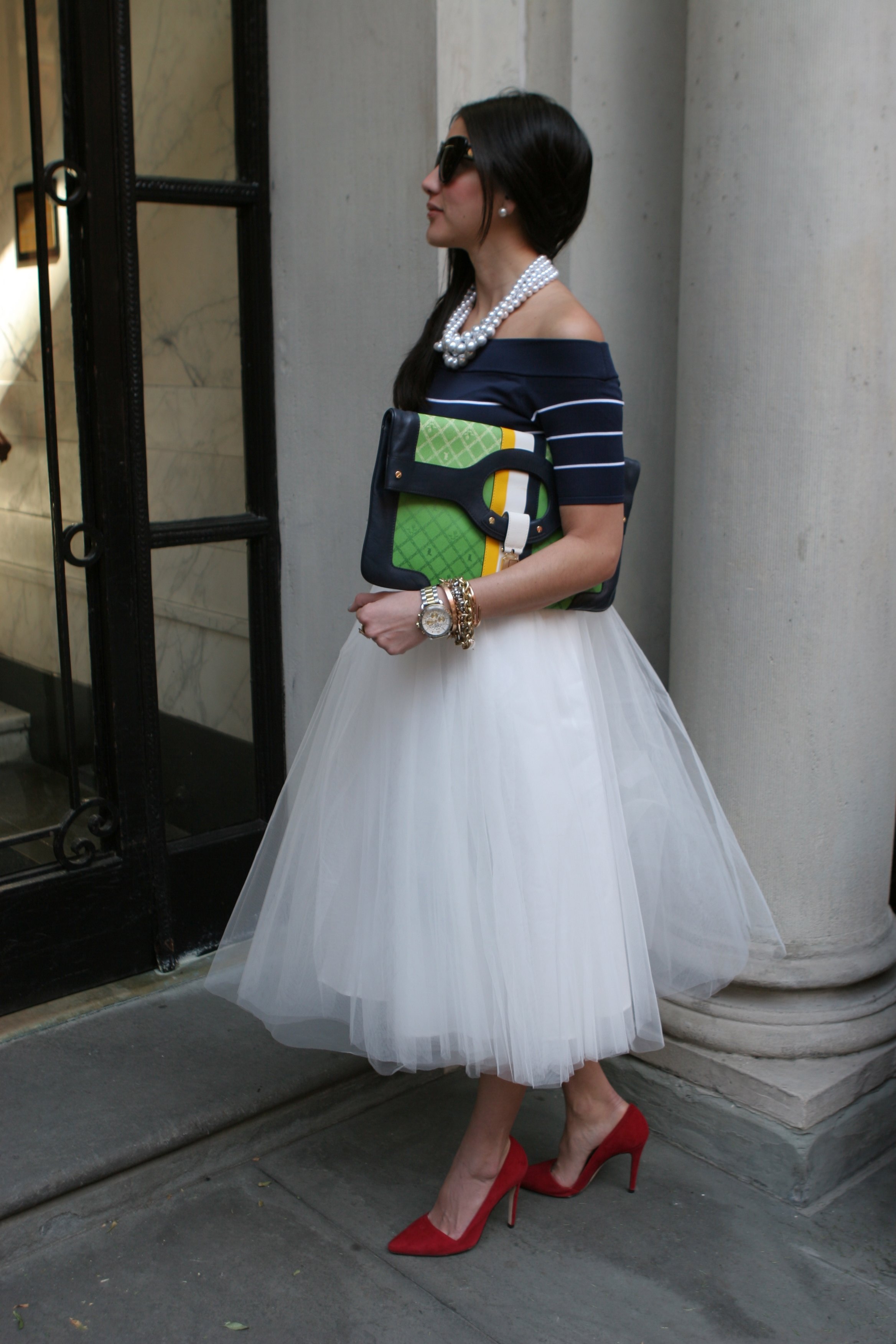 Die Sammlung wurde in den 50er Jahren, Erinnerungen, die sie als kleines Mädchen wie Haarbänder hatten, dass Sie auf der Rückseite einige der Schuhe in der Sammlung zu sehen inspiriert. Die Schauspielerin und Designerin bringt die Sammlung in Zusammenarbeit mit George Malkemus, CEO von Manolo Blahnik, dass, wenn Sie sich daran erinnern, Carrie Bradshaw nicht tragen könnte, die Marke genug in Sex and the City. Die Sammlung umfasst auch ein paar Taschen und eine sehr feminine Trenchcoat, die in Marineblau und beige geht. Die Preise variieren von $200 – $500. Ich fiel in der Liebe mit dem Bobbie in Minze.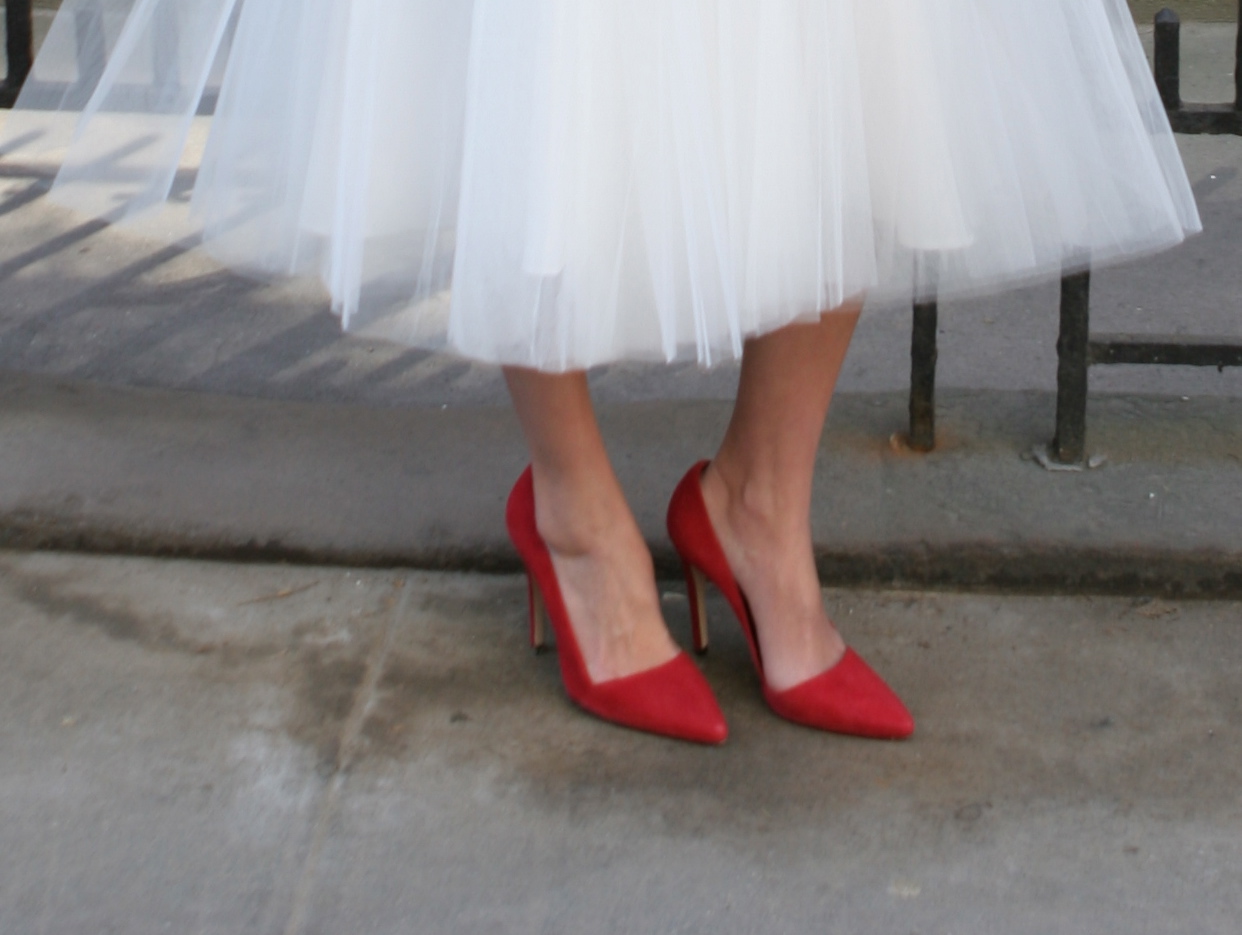 Inspiriert durch ihren Charakter in Sex and the City, beschloss ich, einen Tüll-Rock tragen. SJP mochte meinen Blick und nahm sogar ein Foto von mir und hochgeladen, um instagram ihrer Kollektion. BCBG Bluse, Space 46 Boutique Rock, Alice + Olivia Dina Schuhe, LAMB Tasche, House of Harlow Chelsea Sonnenbrille, Stella & Dot abtrünnigen Cluster-Armbänder, Anarchy Street klassische Nagel Armreif, Coach Uhr, Forever21simply stated bow midi ring, Forever21 cutout striped midi ring set, Forever21 hammered arrow ring set, Lauren Elan Halskette.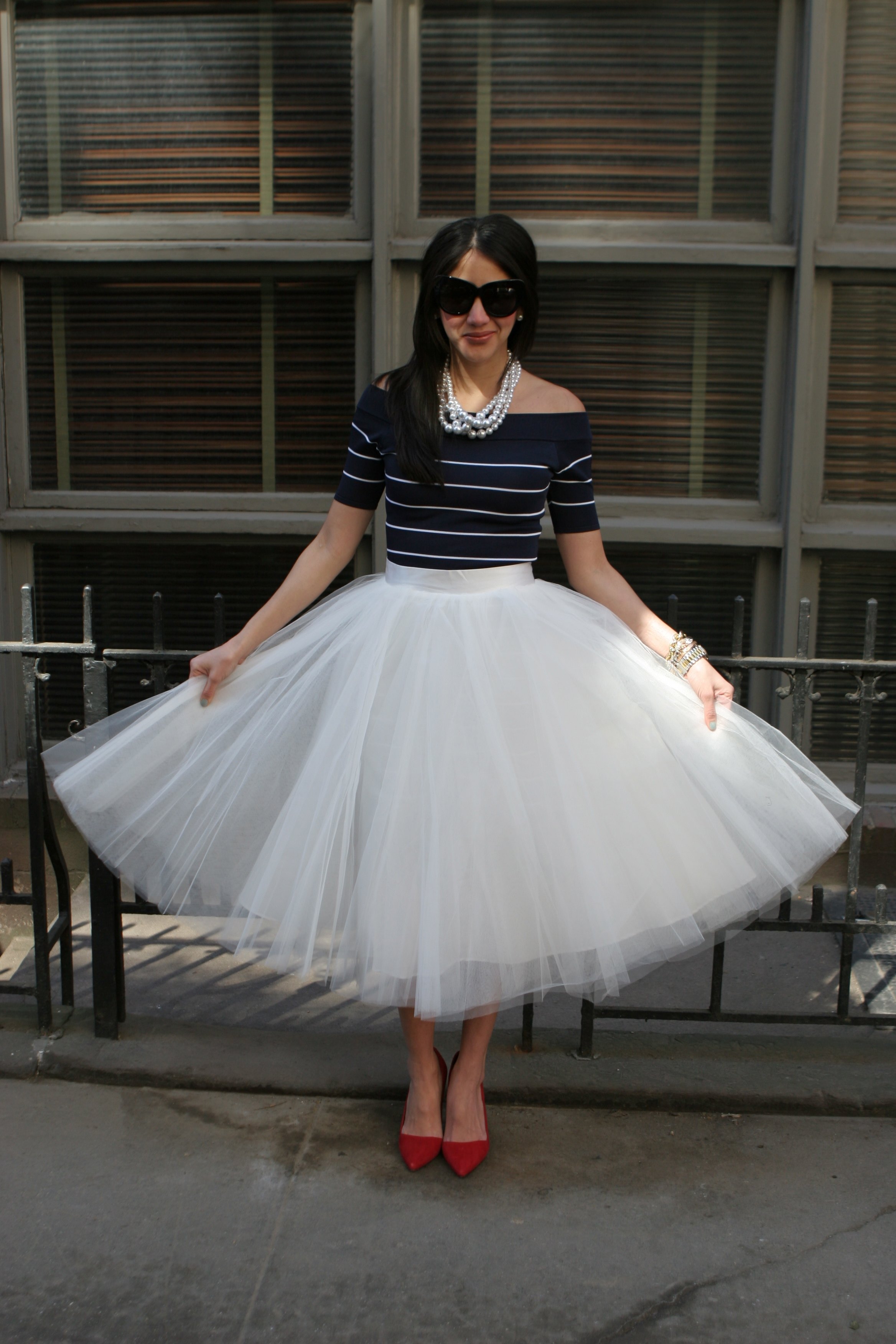 El mes pasado tuve la oportunidad de ir al pop-up shop de la nueva colección de Sarah Jessica Parker que lanzó exclusivamente en la tienda Nordstrom. Sarah Jessica Parker estuvo en el pop-up shop por tres días ayudando a los clientes a encontrar zapatos que vayan con sus estilos, ayudando en la caja registradora, firmando los zapatos y posando en fotos con los compradores que no podían creer su suerte. Fue una experiencia única, ya que continuo viendo los episodios de Sex and The City y SJP siempre ha sido un ícono de la moda para mi.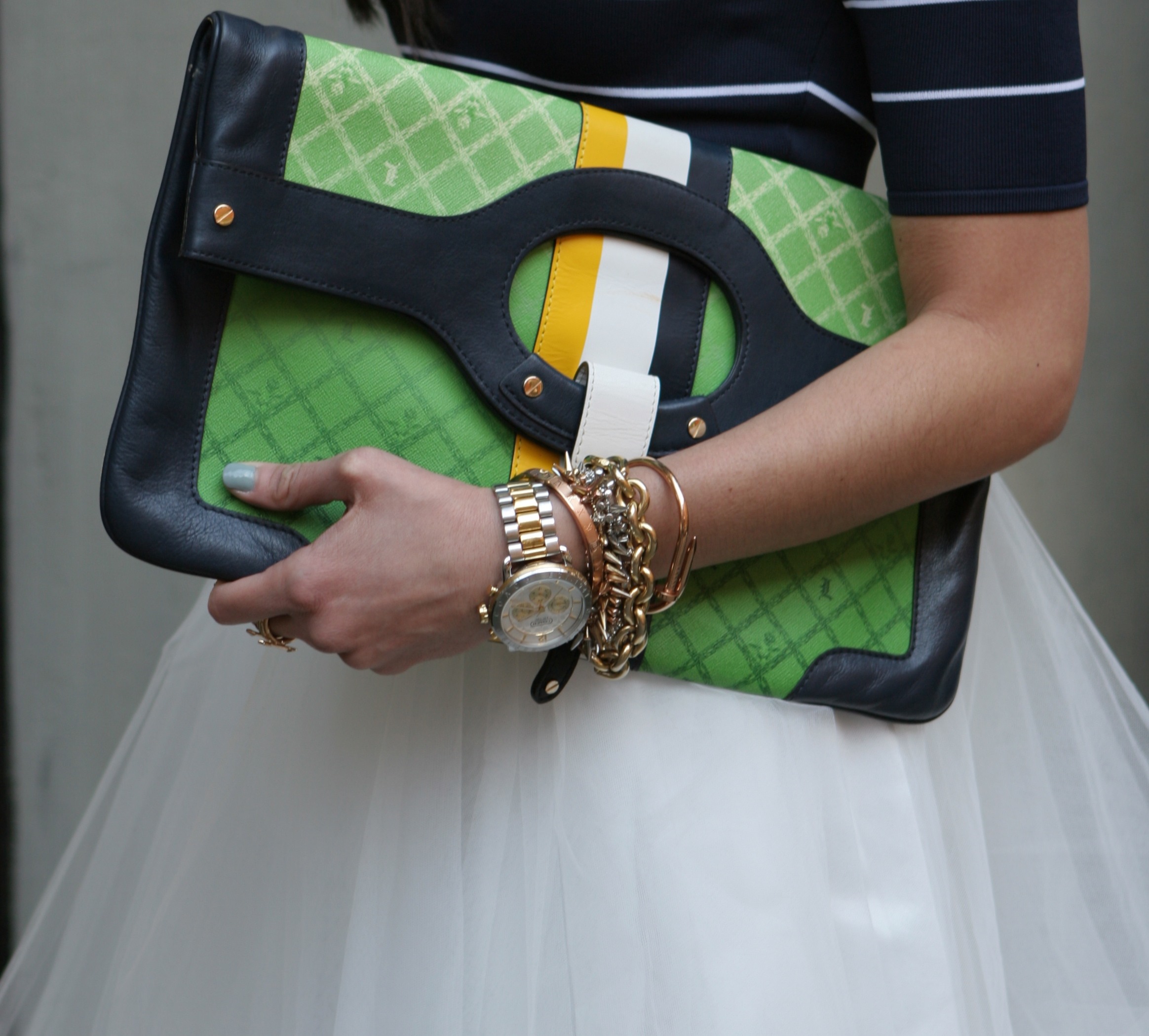 Hablé con Sarah Jessica Parker algunas veces durante mi tiempo en la tienda. Hablamos de mi estilo, que vivo en Nueva York la mitad de mi tiempo más o menos, ya que mi novio vive ahí y siempre estoy de un lado al otro. La colección estuvo enfocada principalmente en zapatos inspirados en los años 50 y recuerdos que tenía de niña, por lo que verán cintas de colores en las partes de atrás de algunos de los zapatos.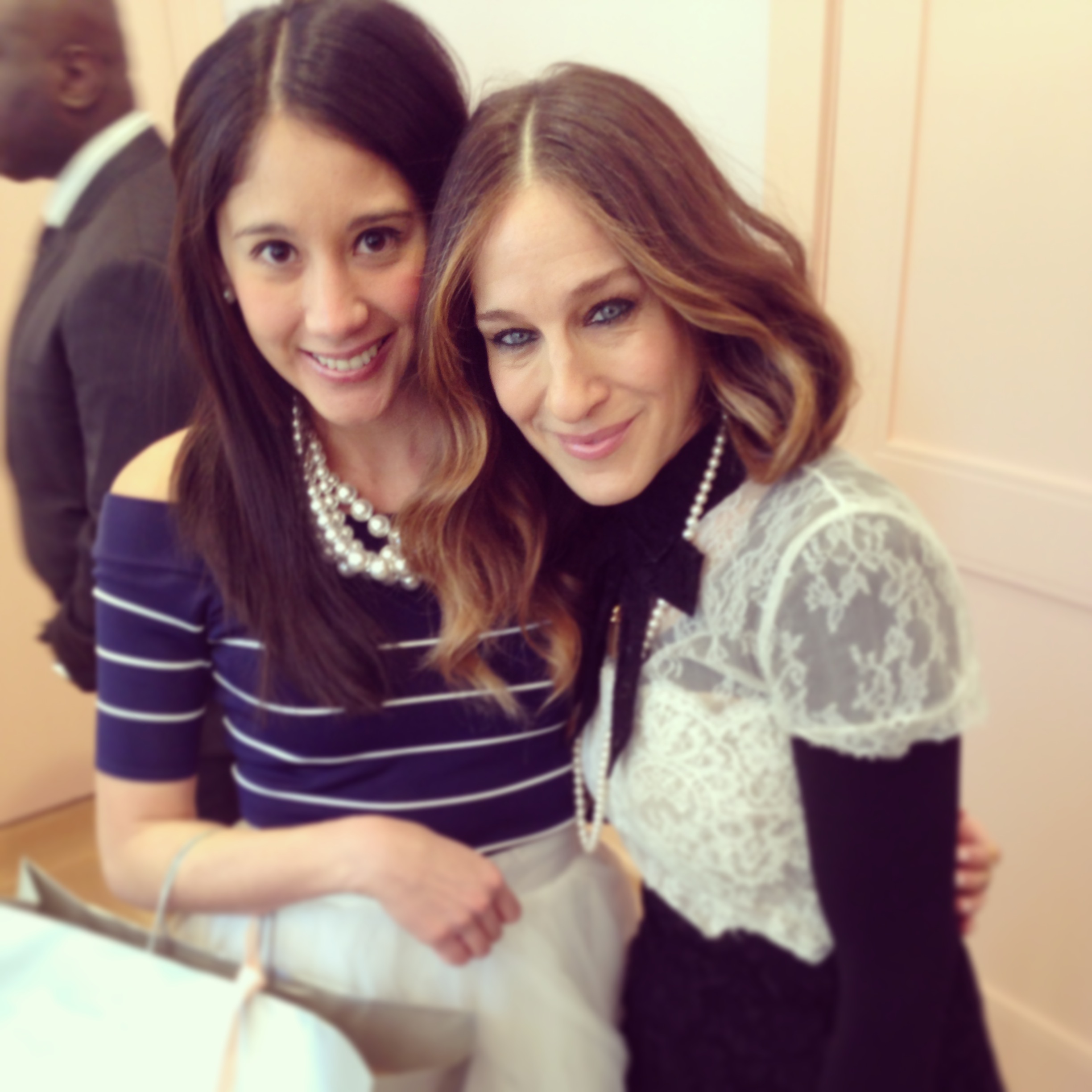 La actriz y diseñadora trae este colección en colaboración con George Malkemus, CEO de Manolo Blahnik, que si bien lo recuerdan, Carrie Bradshaw no podía parar de usar estos zapatos en el show de Sex & The City. La colección también incluye unas carteras y un trenchcoat super femenino que viene en azul marino y el clásico beige. Los precios varían de $200-$500. Me enamoré de los Bobbie en color menta.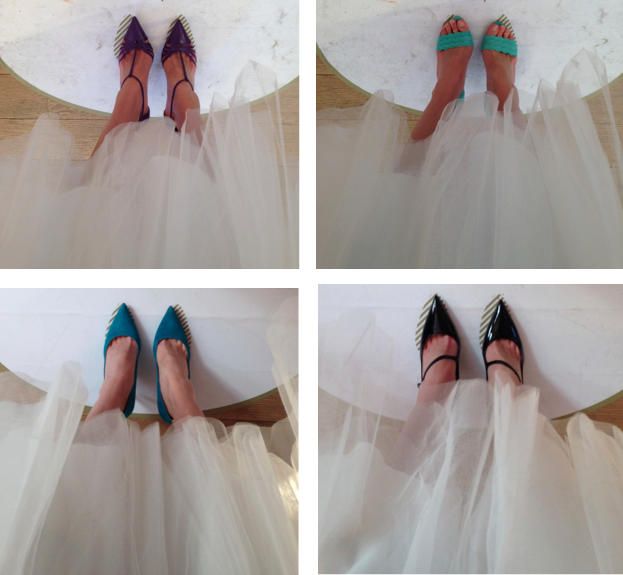 Inspirada por su personaje en Sex & The City, decidí usar una falda estilo tutu de ballet. A SJP le gustó mi look, por lo que me tomó una foto y la subió al instagram de su colección. Vestido BCBG puesto como blusa (similar aquí), falda de tul Space 46 Boutique, zapatos Alice + Olivia Dina, cartera LAMB, gafas preferidas House of Harlow Chelsea, pulseras de racimo renegado Stella & Dot, brazalete clásico Anarchy Street, reloj Coach, anillo de lazo Forever21, anillo con huequitos Forever21, anillo de flecha Forever21, collar de Lauren Elan.