I always attempt to have an element of sophistication in each of my looks. My essential accessory is sometimes a statement necklace, a stack of bracelets or a pop of color on my shoes. I always try to incorporate something that pops especially when it comes to necklaces. On today's outfit, I went with a statement crystal necklace from J.Crew Factory (now $39, plus all of J.Crew Factory items are 50% off with code 12DAYS, I know all the tippi sweater lovers are taking advantage of this deal!), another top-notch statement necklace I'm happy to add to my growing collection (it was an early Christmas present from me to me). Wanting to get a casual yet stylish look I went with a black and combo by wearing this form-fitted Asos midi skirt with stitch waist detail (also loving this one), my Asos Bonjour sweater (loving this one) and Shoe Dazzle pumps. Here's another tip for the midi/full skirt lovers out there, it gives you a perfectly feminine look with just the right amount of classy and modern. Can't seem to get enough of my favorite House of Harlow 1960 Chelsea sunglasses, coach watch via T.J.Maxx, Stella & Dot renegade cluster bracelets.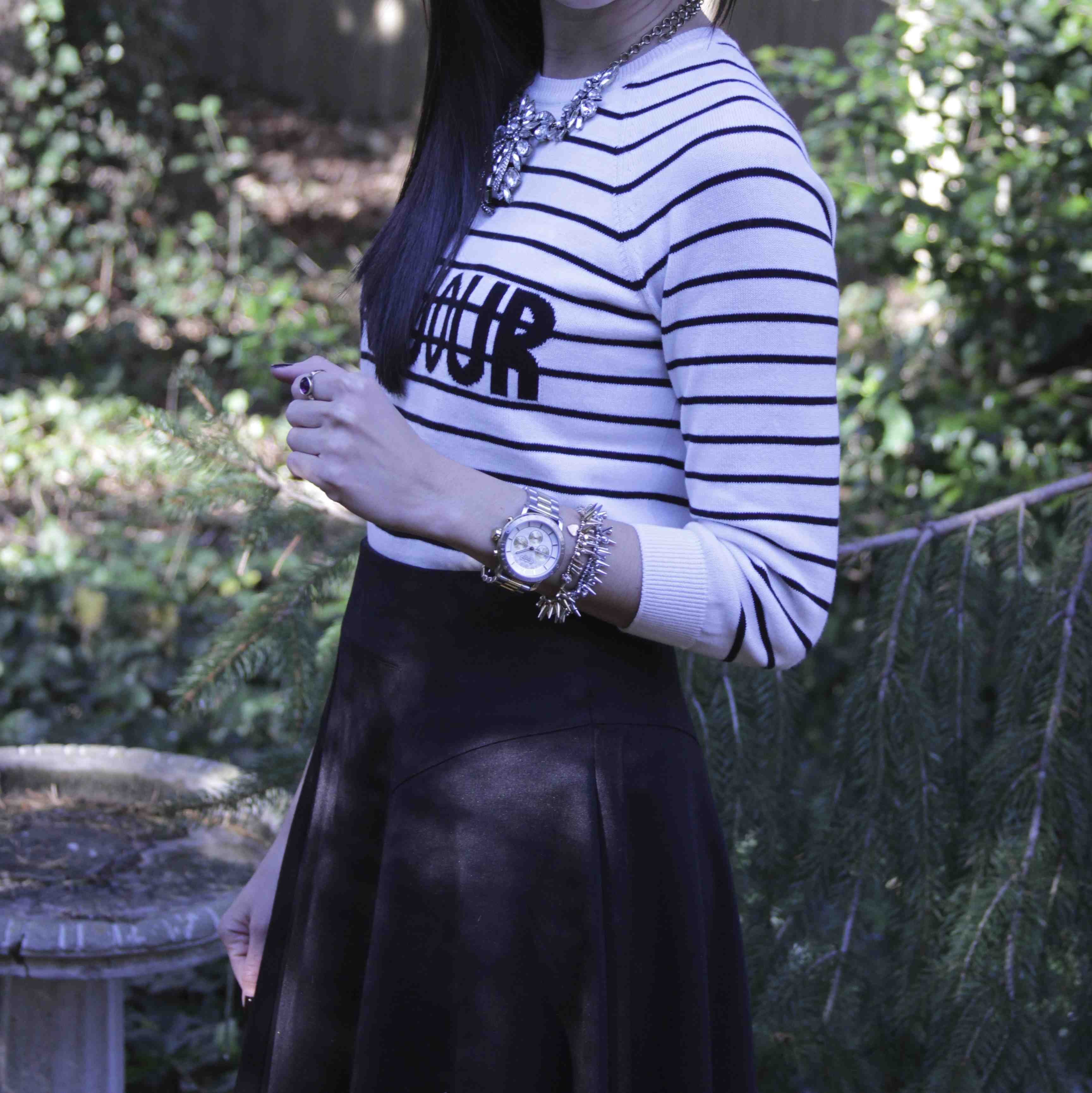 Ich versuche immer, ein Element der Raffinesse in jedem meiner Looks haben. Meine unverzichtbares Accessoire ist manchmal eine Aussage Halskette, ein Stapel Armbänder oder ein Pop der Farbe auf meine Schuhe. Ich versuche immer, etwas, das vor allem knallt, wenn es um Halsketten kommt integrieren. Am heutigen Outfit, ging ich mit einer Aussage Kristall Halskette von J.Crew Factory ( jetzt $39, plus alle von J.Crew Werks Artikel sind 50% mit dem Code 12DAYS, ich weiß, alle tippi Pullover Liebhaber werden die Vorteile dieser Deal!), eine weitere erstklassige Aussage Halskette Ich bin glücklich, meine wachsende Sammlung (es war ein frühes Weihnachtsgeschenk von mir an mich). Wollen Sie auf ein lockeres, aber stilvoll Blick ging ich mit einem schwarz-Combo durch das Tragen dieser form-Asos Midi Rock mit Taillen Stich Detail (auch liebevoll diese), mein Asos Bonjour Pullover (lieb diese) und Shoe Dazzle Schuhe. Hier ist ein weiterer Tipp für die midi/voller Rock-Liebhaber gibt, gibt es Ihnen eine perfekt femininen Look mit genau der richtigen Menge an edel und modern. Kann gar nicht genug bekommen von meiner Lieblings House of Harlow 1960 Chelsea Sonnenbrille, coach Uhr via T.J.Maxx, Stella & Dot renegade cluster Armbänder.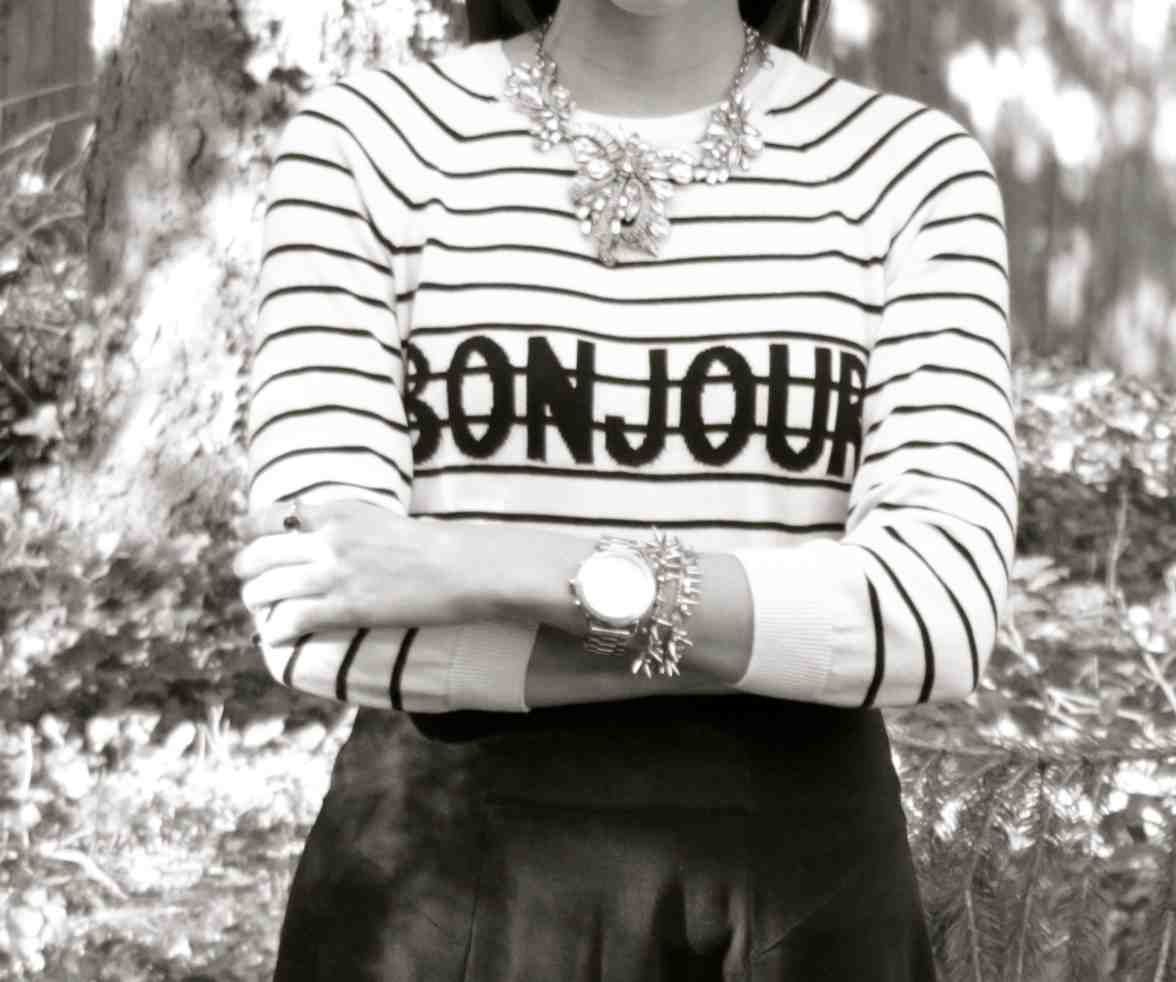 Siempre trato de tener un elemento de sofisticación en cada uno de mis looks. Mi accesorio esencial es a veces un collar llamativo, una pila de brazaletes o un toque de color en mis zapatos. Yo siempre trato de incorporar algo que resalta sobre todo cuando se trata de collares. El conjunto de hoy, resalta un collar de cristal de declaración de J.Crew Factory (ahora $39, además todo en J.Crew Factory está con el 50% de descuento con el código 12DAYS, conozco todos los amantes del suéter tippi están tomando ventaja de esta oferta!), otro collar de declaración que estoy feliz de añadir a mi colección cada vez más grande (fue un regalo de Navidad de mi para mí). Queriendo conseguir un look informal pero elegante me puse con conjunto negro y blanco por medio de esta falda midi con el detalle de la cintura de  puntada de Asos (también amante esta falda), mi suéter Asos Bonjour (amando este suéter) y zapatos Shoe Dazzle. Aquí está otro consejo para los amantes de la falda midi, te da un aspecto perfectamente femenino, con la cantidad justa de elegancia y modernidad. Parece que no canso de mis favoritas gafas House of Harlow 1960 Chelsea, reloj coach via T.J.Maxx, Stella & Dot renegade cluster pulseras.