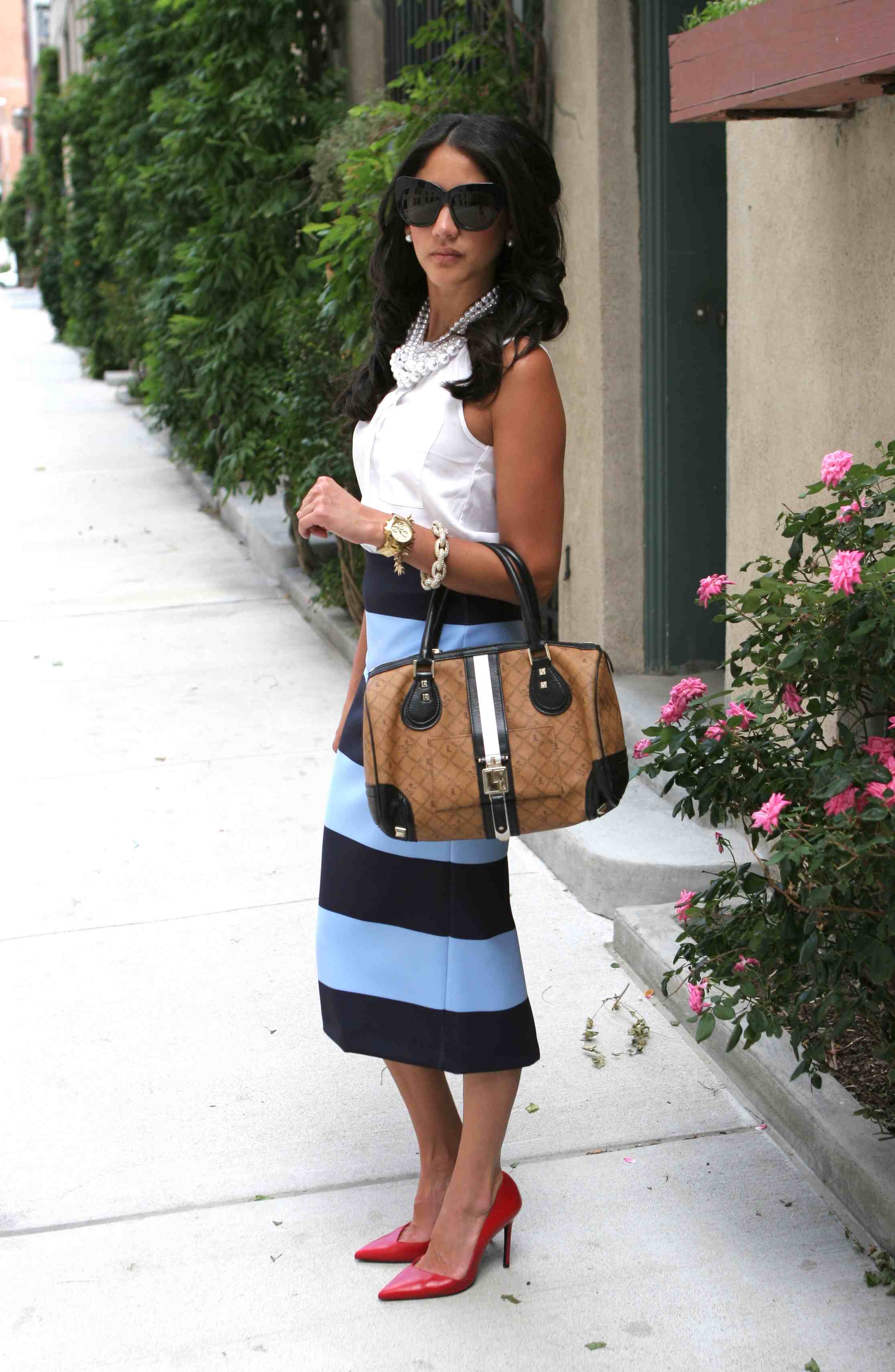 Introducing a rugby, casual bold stripe into your closet. Summer is the season of stripes. Although let's be honest, stripes look good every day of the year, right? For a business casual look for the office, try wearing this classic pattern, sleek, bold stripe skirt with a solid color top to keep things office appropriate. Whether you enjoy wearing nautical (red, white and blue stripes), bold or thin or classic black and white, stripes are in to stay! Zara skirt, H&M top, LAMB bag, ZARA asymmetric leather pointy shoes, Michael Kors watch, Stella & Dot renegade cluster bracelets, Bauble Bar chunky chain bracelets, Lauren Elan necklace, House of Harlow 1960 Chelsea sunglasses.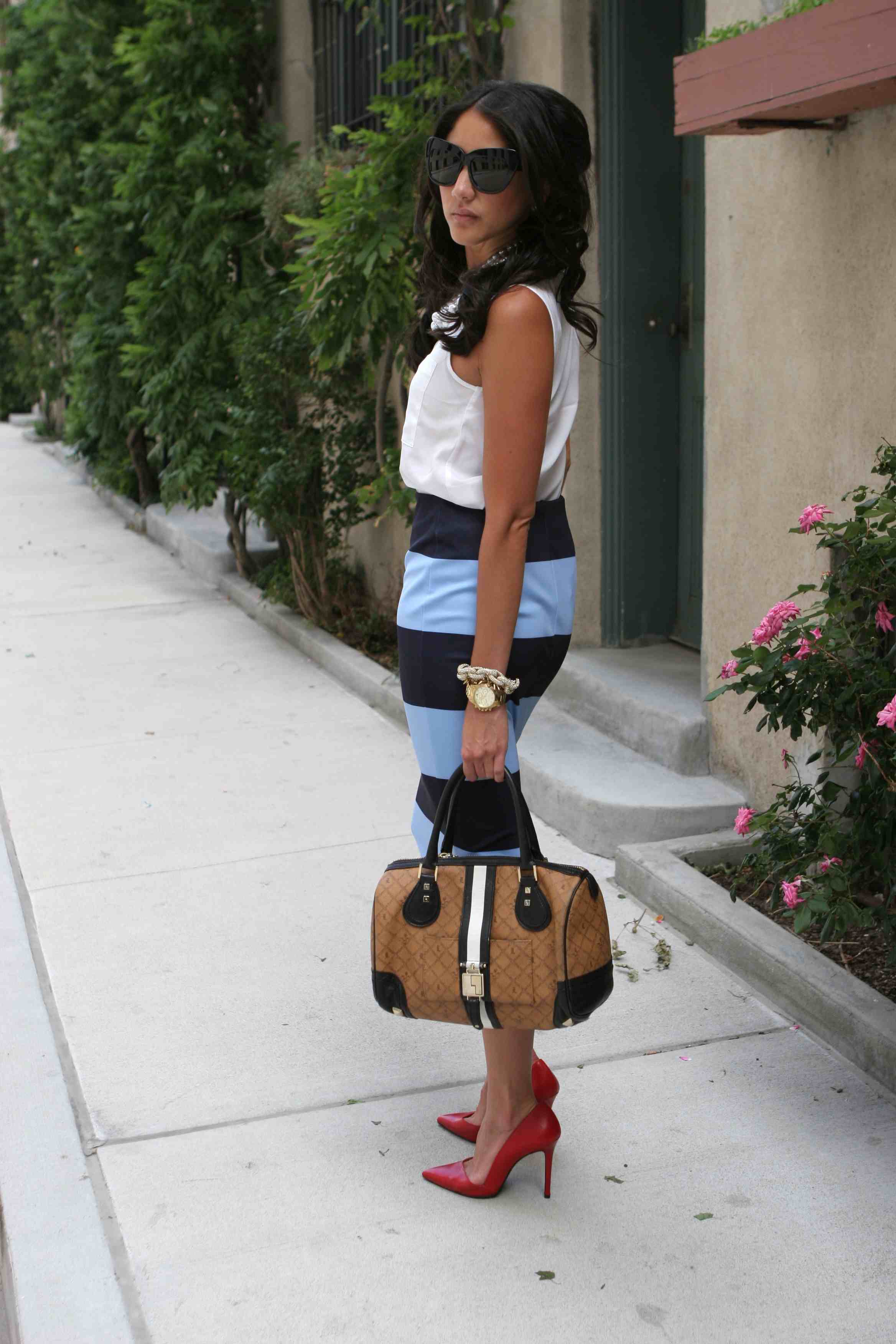 Die Einführung eines Rugby, casual mutigen Streifen in Ihrem Kleiderschrank. Der Sommer ist die Jahreszeit der Streifen. Obwohl seien wir ehrlich, schauen Streifen gut jeden Tag des Jahres, nicht wahr? Für ein Business-Casual-Look für das Büro, versuchen Sie trägt dieses klassische Muster, elegante, mutigen Streifen Rock mit einem einfarbigen oben, um die Dinge Büro angemessen. Ob Sie tragen genießen nautische (rot, weiß und blauen Streifen), sind fett oder dünn oder klassisch schwarz und weiß, Streifen in zu bleiben! Zara Rock, H&M Bluse, LAMB Tasche, ZARA Schuhe, Michael Kors Uhr, Stella & Dot Armbänder, Bauble Bar Armband, Lauren Elan Halskette, House of Harlow 1960 Chelsea Sonnenbrille.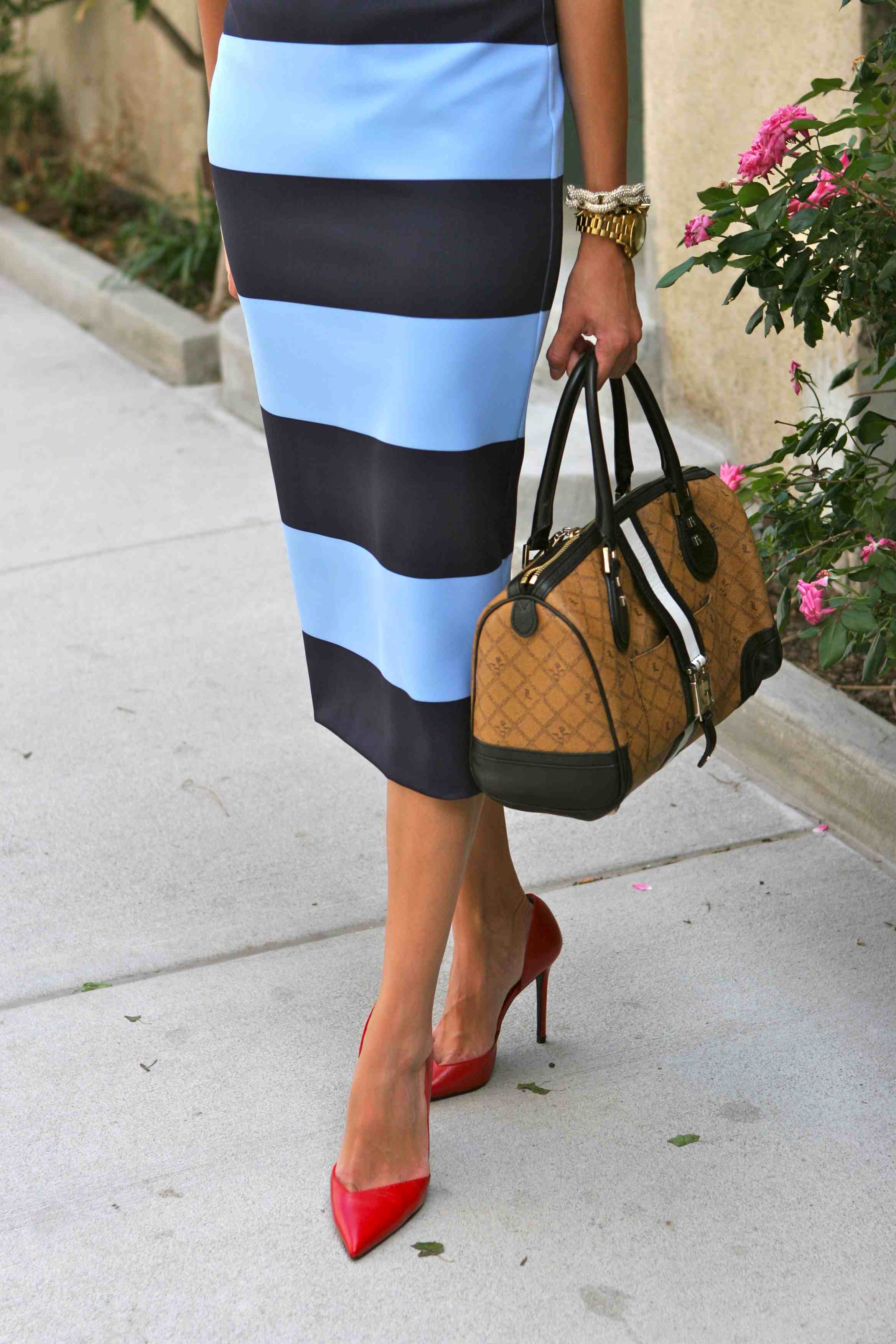 Introduciendo una falda estilo rugby, raya intrépida informal en tu armario. El verano es la temporada de rayas. Aunque seamos honestos, las rayas se ven bien todos los días del año, ¿no? Para un look casual de negocios para la oficina, trata de usar este patrón clásico, elegante, falda atrevida de raya con una blusa de color sólido para mantener las cosas apropiadas en la oficina. Si te gusta llevar rayas náuticas (rayas azules rojas, blancas y), rayas delgadas o gruesas o clásico blanco y negro, las rayas están para quedarse esta temporada! Falda Zara, blusa H&M, cartera LAMB, zapatos ZARA, reloj Michael Kors, pulseras Stella & Dot, pulsera Bauble Bar, collar Lauren Elan, gafas House of Harlow 1960 Chelsea.