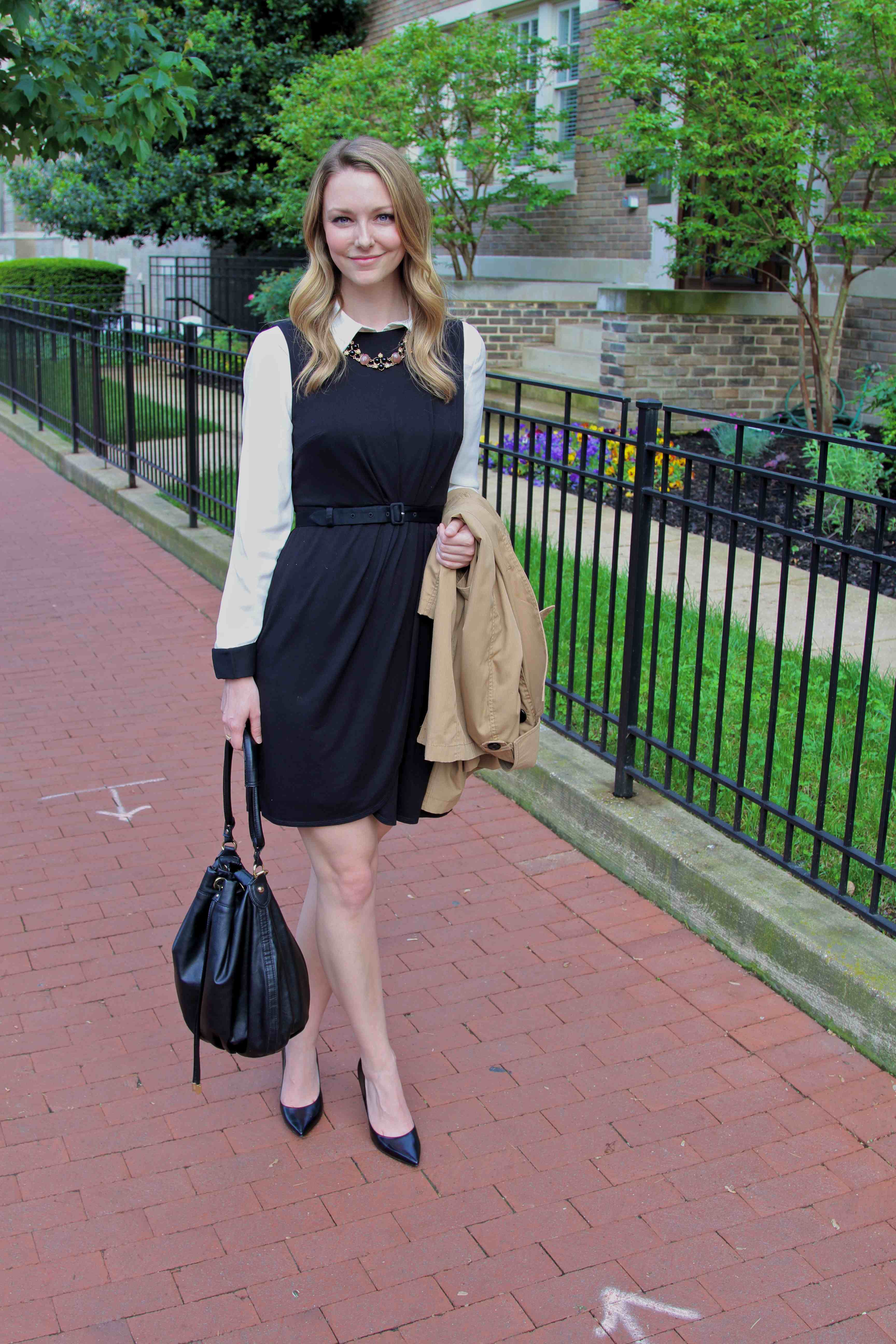 Event planning can be stressful but if you know what to wear to make sure you're comfortable, you can get through the events much easier. Becky Willging is the Special Events Coordinator at the Carnegie Institution for Science in Washington, D.C. She knows all the in and outs of what to wear to run an event while staying chic and comfortable. | Event-Planung kann stressig sein, aber wenn Sie wissen was zu tragen, um sicherzustellen, dass Sie bequem kennen, können Sie durch die Ereignisse viel einfacher zu bekommen. Becky Willging ist die Special Events Coordinator an der Carnegie Institution for Science in Washington, D.C. Sie kennt alle in und auswendig, was zu tragen, um ein Ereignis laufen, während Sie chic und bequem. | La organización de eventos puede ser estresante, pero si ustedes saben qué ponerse para asegurarse de que se sientan cómodos, pueden realizar los eventos con mayor facilidad. Becky Willging es la Coordinadora de Eventos Especiales del Instituto Carnegie para la Ciencia en Washington, D.C. Ella conoce toda la entradas y salidas de qué ponerse para ejecutar un evento elegante y cómoda.  | ABOUT HER: Becky has a background in historic preservation and finds the institution's building classical architecture transformed to meet the needs and styles of each of her clients.  When she's not working an event, she's exploring her new home in Dupont Circle with her fiancé, taking in the gorgeous houses, new restaurants, and old haunts. She's obsessed with decorating their apartment, frequents Miss Pixie's on 14th Street just about every other week. Becky will now take over; I hope you enjoy this profile highlight as much as I enjoyed working with her. | ÜBER SIE: Becky hat einen Hintergrund in der Denkmalpflege und findet der Institution Gebäude klassischer Architektur transformiert, um die Bedürfnisse und Stile von jedem ihrer Kunden zu erfüllen. | SOBRE ELLA: Becky tiene experiencia en preservación histórica y encuentra la arquitectura clásica de la institución transformada para satisfacer las necesidades y estilos de cada uno de sus clientes. Cuando no está trabajando un evento, está explorando su nuevo hogar en Dupont Circle con su novio, disfrutando de las magníficas casas y nuevos restaurantes. Está obsesionada con la decoración de su apartamento, frecuenta señorita Pixie está en la calle 14 cada dos semanas. Becky tiene su atención ahora, espero que disfruten de este perfil destacado tanto como he disfrutado trabajar con ella. | HER STYLE: I'm usually drawn to ultra-feminine pieces, such as midi A-line skirts and floral prints.  However, I typically feel the most beautiful and comfortable in neutrals – favorite combination – army green and camel.  When adding a pop of color or pattern, I'll pair it with muted tones.  Edgier look: graphic tee, blazer, skinny jeans, and ankle boots. | IHR STIL: Ich bin in der Regel, um ultra-feminine Stücke, wie midi A-Linie Röcke und floralen Prints erstellt. | SU ESTILO: Me siento atraída a piezas muy femeninas, como faldas midi y estampados florales. Sin embargo, me siento hermosa y cómoda en tonos neutros – combinación favorita – color ejército verde y beige. Al añadir un toque de color o patrón, los sincroniso con tonos apagados. Su look edgie: camiseta gráfica, chaqueta, vaqueros ajustados y botines.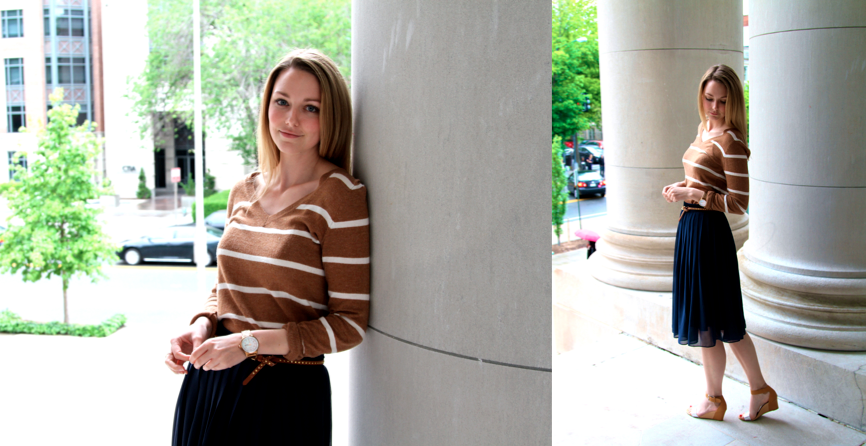 FASHION PHILOSOPHY: Wear what you want and don't let yourself be driven by trends.  I think it's great to incorporate something trendy into your wardrobe if you feel drawn to it, but I also don't think you should stop wearing something just because it's no longer considered "in style." If you love it, wear it.  | FASHION PHILOSOPHIE: Tragen Sie, was Sie wollen, und lassen Sie sich nicht von Trends angetrieben werden. |FILOSOFÍA DE MODA: Usa lo que quieras y no te dejes llevar por las tendencias. Creo que es genial incorporar algo de moda en tu guardarropa si te sientes atraída a ella, pero no creo que debes dejar de usar algo sólo porque ya no es considerado "en estilo." |EVENT PLANNING OUTFIT: I am constantly remixing pieces so I feel my outfits are fresh and work-appropriate. | VERANSTALTUNGSPLANUNG OUTFIT: Ich bin ständig remixen Stücke, damit ich meine Outfits sind frisch und Arbeit-für angemessen halten.  | CONJUNTO DE PLANEACION DE EVENTOS: Estoy constantemente mezclando piezas de manera que siento que mis trajes son frescos y apropiados. | TOUR OUTFIT: I wear a trendy or fashionable outfit to make a good first impression on the newly engaged couples or corporate clients, who are interested in our venue. | TOUR OUTFIT: Ich trage eine trendy oder modische Outfit, einen guten ersten Eindruck auf die frisch verlobte Paare oder Firmenkunden, die in unserem Ort interessiert sind, zu machen. | CONJUNTO DE TOUR: Conjunto de moda para dar una buena primera impresión a las parejas recién comprometidas o clientes corporativos, que están interesados ​​en nuestro sitio. | EVENT OUTFIT: I try to balance standing out as the venue coordinator and blending in with guests. If it's a wedding, I typically wear a dress with flats. | EVENT OUTFIT: Ich versuche, stehend als Austragungsort Koordinator und in harmonischem Einklang mit Gäste auszugleichen. | EVENTO SOCIAL: Traje de business informal con talones. | CORPORATE EVENT: Business casual with heels. | CORPORATE EVENT: Business Kleidungmit Absätzen. | CONJUNTO DE EVENTO: Si se trata de una boda, normalmente me pongo un vestido con zapatos bajos. | EXPERIENCE: I'm ready to be on my feet and take action. It's impossible to imagine the chaos that will almost certainly occur, and you just can't tackle it if you're wearing heels.  I have four pairs of shoes in my desk drawer ready to make the switch whenever necessary: nude/black heels/flats.  When the last guest happily stumbles out the door, a pair of trusty Toms quickly find their way to my feet, and cleanup commences.  Corporate events aren't nearly as involved, which is why I can get away with heels for the evening, unless it's an inaugural gala, which is a completely different story. | ERFAHRUNG: Ich bin bereit, auf meinen Füßen sein und Maßnahmen ergreifen. Wenn der letzte Gast glücklich stolpert aus der Tür, ein Paar von treuen Toms schnell finden ihren Weg zu meinen Füßen und Aufräumarbeiten beginnt. Corporate Events sind bei weitem nicht so involviert, weshalb ich damit durchkommen Heels für den Abend, es sei denn, eine Antrittsrede Gala, die eine ganz andere Geschichte ist alles. | EXPERIENCIA: Estoy lista para estar de pie y tomar acción. Es imposible imaginar el caos que es casi seguro que ocurrirá, y simplemente no puedes hacer frente si estás usando tacones. Tengo cuatro pares de zapatos en el cajón de mi escritorio listos para hacer el cambio cuando sea necesario: desnudos/negro talones/zapatos bajos. Cuando el último cliente feliz tropieza por la puerta me pongo un par de Toms y la limpieza comienza. Eventos de cooperaciones no necesitan de mucho, por lo que puedo salir con zapatos de tacón, a menos que sea una gala inaugural, que es una historia completamente diferente.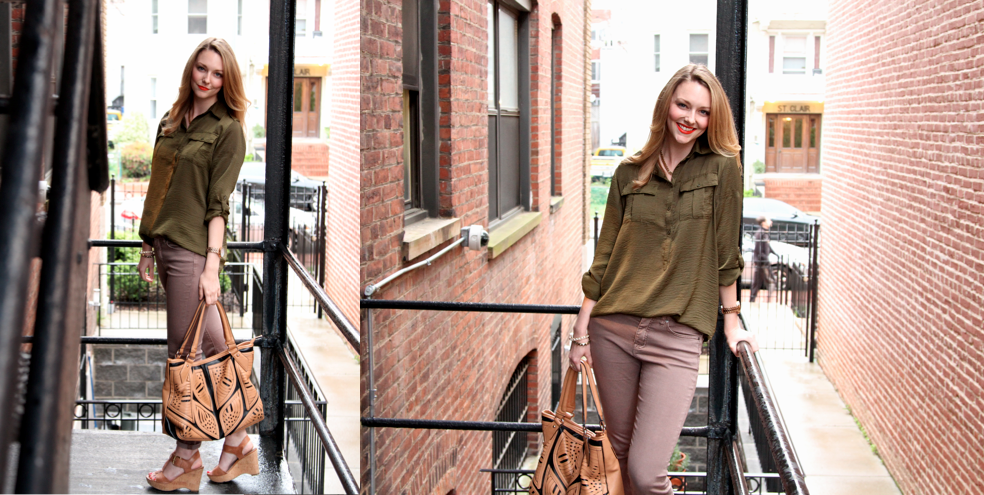 FASHION TIPS: I think most people in the events industry, especially in D.C., try to balance professionalism with being fashionable and unique.  We're lucky in the sense that we're not working on the Hill, so we're not confined by skirt suits and button downs.  This is a creative industry and I think conveying that through our personal style is a great way to appeal to potential clients.  | FASHION-TIPPS: Ich denke, die meisten Menschen in der Event-Branche, insbesondere in DC, versuchen, mit Professionalität, modisch und einzigartig auszugleichen. | CONSEJOS DE MODA: Creo que la mayoría de la gente en la industria de eventos, sobre todo en D.C., tratan de equilibrar el profesionalismo con estar a la moda y ser único. Esta es una industria creativa y creo que transmitir nuestro estilo personal es una gran manera de atraer a clientes.  | TRENDS: I love the color-block trend when done right.  I have yet to attempt it, but I've seen some really beautiful interpretations that I admire – especially bright orange and pink.  Similarly, I love the monochrome trend. I think it speaks to women like me in the sense that I can incorporate color into my wardrobe but still feel somewhat neutral.  I'm also thrilled that feminine florals, lace, and A-line silhouettes are in this season, as well as more delicate jewelry.  Carolina Herrera and Elie Saab are two of my favorites whose design philosophies tend to embody classic femininity.  And, of course, stripes, but do they ever go out of style?  | TRENDS: Ich liebe die Farbe Block Trend, wenn es richtig gemacht. Ich habe noch versucht es, aber ich habe ein paar wirklich schöne Interpretationen, die ich bewundere gesehen – besonders hell orange und rosa. Carolina Herrera und Elie Saab sind zwei meiner Favoriten, deren Design-Philosophien verkörpern eher klassische Weiblichkeit. Und, natürlich, streifen, weiß aber sie jemals aus der Mode? | TENDENCIAS: Me encanta la tendencia de color de bloque cuando se hace bien. Del mismo modo, me encanta la tendencia monocromática. También estoy enamorada de los floriados femeninos, encajes, y las siluetas de línea A, que se encuentran en esta temporada. Carolina Herrera y Elie Saab son dos de mis favoritas cuyas filosofías de diseño tienden a encarnar la feminidad clásica. Y, por supuesto, rayas, pero ¿alguna vez pasan de moda?  | CONNECT: Facebook, Twitter. | CONNECT: Facebook, Twitter. | CONÉCTATE: Facebook, Twitter.