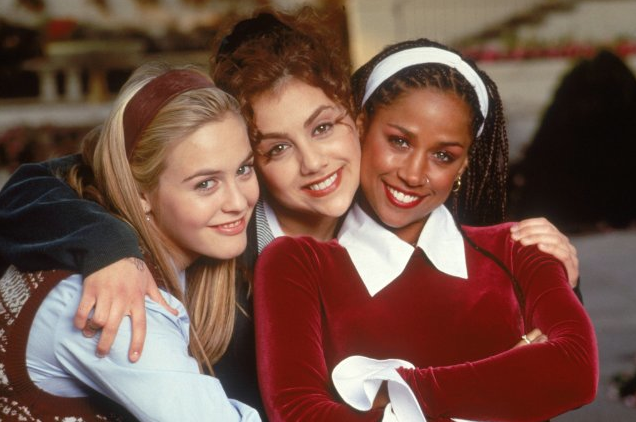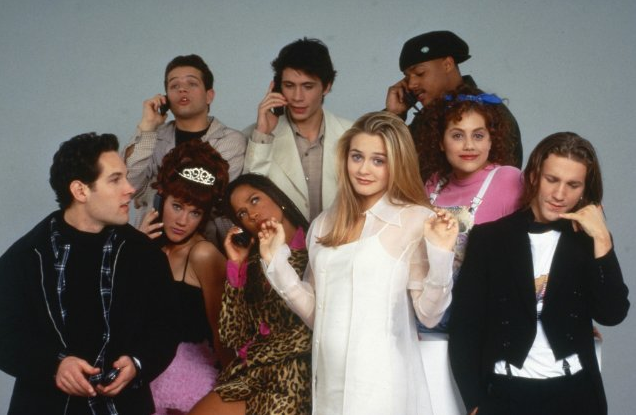 Last night, I found myself watching Clueless, on Netflix, thank you Will!, and I fell in love with the movie all over again. The 1995 teen flick captivated young girls worldwide, I mean I was still living in Ecuador when it came out and it became my favorite movie (it's still on my top list). I remember buying the VHS and watching it over and over again, I know many of you are with me here! Cher (Alicia Silverstone), Dionne (Stacey Dash) and Tai (Brittany Murphy), rocked teenage girls' world by portraying themselves as THE best dressed, strong-willed and perfect girls from Beverly Hills. The fashion in this movie perfectly captured the look of the mid-90s. The clothes were bright and fun, the girls loved their Mary Jane shoes, mini-skirts, knee high socks, which let's be honest, we still love this trend. Spring is upon us and with it comes the countless wish lists, online saved items that allow you to save time and money until you're ready to make the commitment. Even though I'm not really shopping, it makes me feel pretty good to select those pieces that I know I will get my hands on as soon as humanly possible. I don't know about you but I find it very therapeutic to browse through new clothes' collections, whether I'm on my computer at home or browsing through catalogs, the old school way, with a glass of wine, Pandora on and flipping through the pages of the catalogs and magazines I get in the mail. It's always a relaxing way to end my night. If you're looking to splurge though, I would totally check out Asos, JCrew, JCrew Factory, Tibi and Alice + Olivia, I have countless wish lists/saved items on these stores. While looking for photos to share this post, I run into an article about L.A. label Wildfox and learned it kicked off its spring 2013 collection, 'We're the Kids in America,' earlier this year by paying tribute to Amy Heckerling's creation, Clueless. The collection features models that have an uncanny resemblance to the lead ladies we fell in love with back in 1995. Wildfox has supercute t-shirts and knits that have the fun and unforgettable movie quotes such as 'As If,' Shopping is my Cardio' (I know it's mine!), 'Whatever,' and many more. Photos via 1995 Paramount HE.
Gestern habe ich Clueless auf Netflix gesehen, danke Will!, Und ich verliebte mich in dem Film wieder von vorn. Die 1995 Teen Flick fasziniert junge Mädchen weltweit, ich meine, ich lebte noch in Ecuador, als es herauskam und es wurde mein Lieblingsfilm (es ist immer noch auf meiner Top-Liste). Ich erinnere mich an den Kauf der VHS und beobachtete sie immer und immer wieder, ich weiß, viele von euch sind hier mit mir! Cher (Alicia Silverstone), Dionne (Stacey Dash) und Tai (Brittany Murphy), rockten teenage girls 'Welt porträtiert sich als den besten gekleidet, willensstark und perfekte Mädchen aus Beverly Hills. Die Mode in diesem Film perfekt eingefangen das Aussehen der Mitte der 90er Jahre. Die Kleider waren hell und Spaß, liebte die Mädchen ihre Mary Jane Schuhe, Mini-Röcke, Kniestrümpfe, die lasst uns ehrlich sein, wir mögen diesen Trend. Der Frühling ist auf uns und mit ihm kommt die unzähligen Wunschlisten, online gespeicherten Elemente, mit denen Sie Zeit und Geld sparen, bis Sie bereit, um das Engagement zu machen sind erlaubt. Auch wenn ich nicht wirklich bin Einkaufen, fühle ich mich ziemlich gut, diese Stücke, die ich weiß, ich werde meine Hände auf, sobald wie irgend möglich zu erhalten wählen. Ich weiß nicht wie es euch geht, aber ich finde es sehr therapeutische, durch neue Kleider 'Sammlungen durchsuchen, ob ich auf meinem Computer zu Hause bin oder Durchblättern von Katalogen, die alte Schule Weise, mit einem Glas Wein, Pandora auf und Spiegeln durch die Seiten der Kataloge und Zeitschriften bekomme ich in der Mail. Es ist immer eine entspannende Art und Weise zu beenden meine Nacht. Wenn Sie schauen, um aber protzen wollen, würde ich ganz Besuche Asos, JCrew, JCrew Factory, Tibi und Alice + Olivia, ich habe unzählige Wunschlisten / gespeicherten Elemente auf diesen Geschäften. Auf der Suche nach Fotos zu diesem Beitrag Aktie, laufe ich in einem Artikel über LA Label Wildfox und lernte es startete seine Frühjahr 2013 Kollektion 'Wir sind die Kids in America "Anfang dieses Jahres von Hommage an Amy Heckerling Schöpfung, Clueless . Die Sammlung verfügt über Modelle, die eine unheimliche Ähnlichkeit mit den führenden Damen wir verliebt im Jahr 1995 haben. Wildfox hat supercute t-Shirts und Strick, die den Spaß und unvergessliche Film Zitate wie haben "As If" Einkaufen ist mein Cardio "(Ich weiß, es ist meins!)," Was auch immer ", und viele mehr. Fotos über 1995 Paramount HE.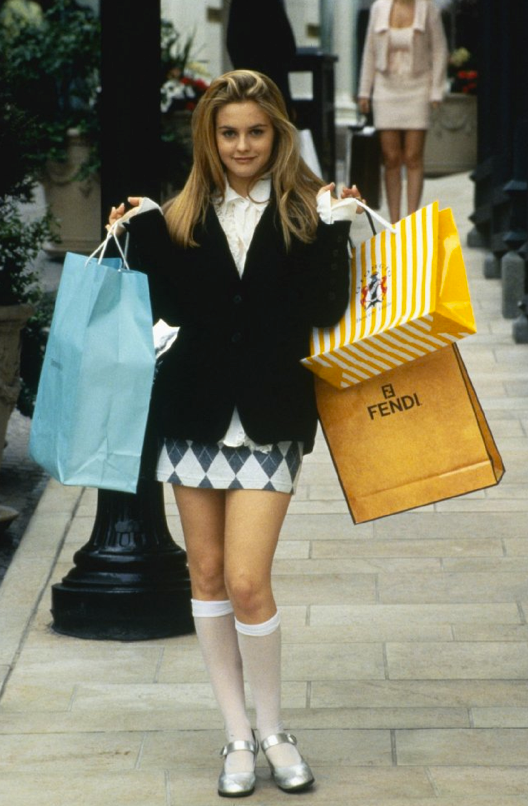 Ayer por la noche, me encontré viendo Clueless, en Netflix, gracias Will!, Y me enamoré de la película de nuevo. La película de 1995 de adolescentea cautivó chicas en todo el mundo, quiero decir aún vivía en Ecuador cuando se estrenó y se convirtió en mi película favorita (todavía está en mi lista de las mejores). Me acuerdo haber comprado el VHS y verlo una y otra vez, sé que muchas de ustedes están conmigo aquí! Cher (Alicia Silverstone), Dionne (Stacey Dash) y Tai (Brittany Murphy), atrajeron el mundo de las adolescentes presentándose como las mejores vestidas, de carácter fuerte y chicas perfectas de Beverly Hills. La moda en esta película capturó perfectamente el aspecto de mediados de los años 90. La ropa era brillante y divertida, las chicas les encantaba sus Mary Jane Shoes, mini faldas, calcetines altos, y seamos honestos, todavía amamos esta tendencia. Primavera ya está aquí y con ella viene la lista de deseos de innumerables artículos guardados en los cart en línea que te permiten ahorrar tiempo y dinero hasta que estés lista para hacer el compromiso. Aunque no estoy comprando por el momento, me hace sentir muy bien el seleccionar aquellas piezas que sé que voy a tener en mis manos tan pronto como sea humanamente posible. Yo no sé ustedes, pero me resulta muy terapéutico navegar a través de colecciones de ropa nueva, ya sea que esté en mi computadora en casa o pasando las peaginas de catálogos, como fue diseñado originalmente, con un vaso de vino, Pandora y pasando a través de las páginas de los catálogos y revistas que recibo en el correo. Siempre es una manera muy relajante de finalizar mi noche. Si estás interesada en comprar sin embargo, les recomiendo totalmente que echen un vistazo a Asos, JCrew, JCrew Factory, Tibi y Alice + Olivia, tengo innumerables listas de deseos / elementos guardados en estas tiendas. En la búsqueda de fotos para compartir este post, encontré un artículo sobre la marca Wildfox de Los Angeles y aprendí que recientemente lanzó su colección de primavera de 2013: "We're the Kids in America", haciendo un tributo a la creación de Amy Heckerling, Clueless . La colección cuenta con modelos que tienen un extraño parecido a chicas con las cuales nos enamoramos en 1995. Wildfox tiene camisetas y tejidos que tienen la diversión y citas inolvidables películas super chéveres tales como "As If", "Shopping is my Cardio" (yo sé que es el mío!), "Whatever," y muchos más. Fotos a través de Paramount HE.