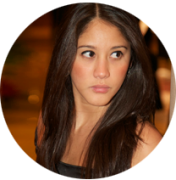 About MariaOnPoint.com: MariaOnPoint.com is a personal style and fashion blog that provides styling ideas and shopping information for petite women. MariaOnPoint.com also shares recommendations and answers for those who are seeking to look stylish on any budget. I understand the peculiarities behind finding the right size and fit for petite women and I will do my best to share as many details about these key elements when writing a post. You'll often find me mixing high-end designers with low-end basics from trendy fast-fashion stores. My style is feminine, classic with a little edge.
About Me: Outside of MariaOnPoint.com, I provide on-air style advice on Univision and Telemundo, and work full-time in public relations. I'm originally from Ecuador and live in New York City while often traveling to DC and LA.
Über MariaOnPoint.com: MariaOnPoint.com ist ein persönlicher Stil und Mode Blog, das Styling-Ideen und Einkaufsinformationen für zierliche Frauen zur Verfügung stellt. MariaOnPoint.com teilt auch Empfehlungen und Lösungen für diejenigen, die versuchen, für jedes Budget stilvoll aussehen. Ich verstehe die Besonderheiten hinter die richtige Größe zu finden und passen für zierliche Frauen, und ich werde mein Bestes tun, so viele Details über diese Schlüsselelemente zu teilen, wenn einen Beitrag zu schreiben. Sie werden oft finden mich High-End-Designer mit Low-End-Grundlagen von trendigen schnell Modegeschäften zu mischen. Mein Stil ist feminin, klassisch mit einem kleinen Rand.
Über Mich: Außerhalb von MariaOnPoint.com biete ich On-Air-Design Beratung über Univision und Telemundo und arbeiten Vollzeit in der Öffentlichkeitsarbeit . Ich bin ursprünglich aus Ecuador und leben in New York City, während oft zu DC und LA reisen.
Acerca de MariaOnPoint.com: MariaOnPoint.com es un blog de moda y estilo personal que proporciona ideas de estilo e información de shopping para las mujeres petite, delgadas o chiquitas. MariaOnPoint.com también comparte recomendaciones y soluciones para aquellos que están tratando de buscar moda y estilo independiente de tu presupuesto. Entiendo perfectamente las peculiaridades detrás de encontrar el tamaño adecuado y apto para mujeres petite y haré mi mejor esfuerzo para compartir todos los detalles sobre estos elementos clave a la hora de escribir un post. Mi estilo a menudo combina diseñadores de alta costura con casas de moda rápida. Mi estilo es femenino y clásico.
Acerca de Mi: Fuera de MariaOnPoint.com, doy consejos de moda en segmentos de televisión en Univisión y Telemundo, y trabajo a tiempo completo en relaciones públicas. Soy de Ecuador y vivo en la ciudad de Nueva York, mientras viajo frecuentemente a Washington, DC y Los Ángeles.